Stone Gossard is the rhythm guitarist and, along with Jeff Ament and Mike McCready, a founding member of the American rock band Pearl Jam. Stone is well known for his work in grunge rock bands based in Seattle through the 1980s prior to Pearl Jam, and he has made significant contributions to the music industry as a producer and owner of a record label and a recording studio.

Let's look at what gear and equipment has been seen in Stone Gossard's Guitar Rig. Keep in mind that Pearl Jam has used a lot of gear and it's not possible to cover everything.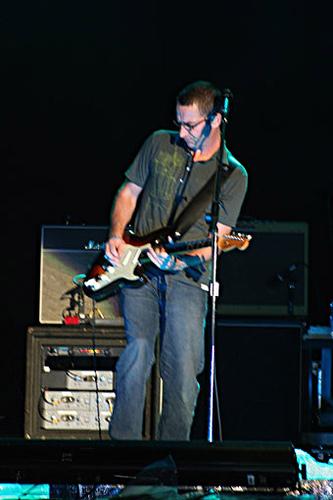 Click the gear images for more info & specs at Guitar Center and Amazon

Guitars
- 1953 Gibson Les Paul
- 1954 Gibson Les Paul Goldtop
- 1954 Fender Telecaster Blonde Finish

- 1959 Fender Stratocaster Red Finish

- 1959 Fender Stratocaster Salmon Pink Finish - used on 'Half Full' recording
- 1964 Gibson ES-330 Red finish Bigsby Tremolo - Used on 'Love Boat Captain' recording :

- 1966 Fender Duo-Sonic Beige Finish
- 1968 Gibson ES-335 Candy Apple Red

- 1968 Gibson ES-330 Black finish Bigsby Tremolo
- 1968 Guild Starfire
- 1969 and 1972 Gibson Les Paul Gold Top guitars

- 1980's Gibson Flying V Black Finish - Used on 'Cropduster' recording

- 1999 Jerry Jones Neptune 12 string
- Gibson Les Paul Sunburst

- Hamer Duo Tone
- Fender Stratocaster Black Finish

- Fishman Powerbridge Pickups - used on 'Daughter'

- Rickenbacker Black Finish
- 2001 National Resolectric - can be heard in 'Thumbing My Way'
- 2001 James Trussart Telecaster
- Taylor 710s ES
- Huss & Dalton D-RH


Amps and Cabinets
- Trentino amps customed made by Sal Trentino (2000 Trentino 30w Amp)
- Savage Blitz 50Watt Combo / 2x12
- Slanted Marshall Cabinets 1960B 4x12"
- Marshall Combo tube amp that looks like a 1974x handwired 18watt combo? (notice one in the amp pics)

- Fender Deluxe

- Vox AC30 Hand wired
Effects
- Ibanez FL-305 Flange w/ Delay
- Whirlwind A/B (clean/dirty) selector amp switch

- Ernie Ball 6166 Mono Volume

- Dunlop Crybaby 535Q Wah pedal
- Klon Centaur Overdrive
- Keeley Compressor
- Line 6 DL4 Delay
- Morgan Miller DT-1 Boost
- MXR M-132 Super Comp

- Hughes & Kettner Rotosphere

- MXR Phase 90
- MXR M-135 Smart Gate
- MXR M-133 Micro Amp
- Danelectro "Dan-Echo" Delay
- Ibanez SD-9 Sonic Distortion

- Boss DD-3 Digital Delay
- Boss Hyperfuzz

- Boss Stereo Chorus Pedal
- DOD graphic eq pedal
- Boss TU-12H Chromatic Tuner

- Diaz Tremodillo Tremolo
- Dunlop UniVibe  chorus
- Fender Spring Reverb rack unit
- Avalon Direct Boxes
Strings
More recent:
- Martin Marquis 80/20 Bronze Mediums - used on most acoustics
- GHS Boomers (.010-.046) - used on electrics
- GHS Boomers 12 String (.010-.046; used on "I Am Mine" studio recording)
- Martin Marquis 80/20 Bronze Mediums w/ .77 Low B String instead of standard Low E (used on "Bushleaguer" studio recording)


Used in 1998:
- GHS Boomers (.011-.52)
- Martin M150 Bronze Wound Acoustic Strings (.013-.056)


Picks
Dunlop Tortex .73mm picks