Daniel Johns is an Australian vocalist, composer, guitarist, and pianist, best known as frontman of the rock band Silverchair.

Daniel has played a variety of gear over the years and we will try to cover as much of it as possible.

Let's look at what gear and equipment has been seen in Silverchair's Daniel Johns' Guitar Rig.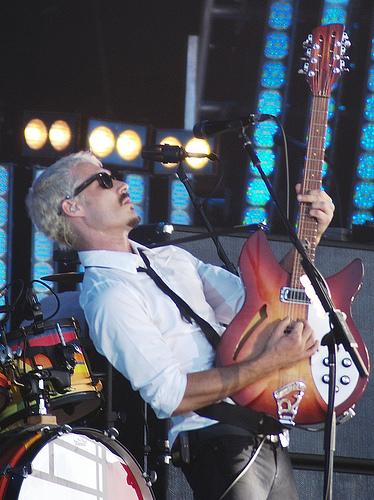 Click the gear images for more info & specs at Guitar Center and Amazon

Guitars
- The Rock Axe
- Ibanez JEM
- Gibson Firebird (ebony color)

- Gibson Les Pauls (Honeyburst color)
- Paul Reed Smith (PRS) Custom 24 Emerald Green, Orange, and Custom Standard 24 guitars. Also Platinum Custom 22 guitar.

- 70s Natural Fender Telecaster Deluxe
- Sunburst Fender Maverick or 'Custom'
- Gretsch (Super Chet)
- Gibson SG Heritage Cherry (including 1970's model)

- Jackson Roswell Rhoads Platinum
- Hofner Galaxie Vintage 60's Model in Red
- Fender Mustang 60's model Lake Placid Blue
- Gibson acoustic (unknown model) Sunburst
- Paul Reed Smith (PRS) Standard Black McCarty



- Gibson Les Paul Custom Ebony

- Gibson SG Deluxe CreamYellow
- Guild D-40 acoustic guitar

- MJ Guitars Black Mirage and Standard Mirage Silver/Platinum models
- Fender Jazzmaster left-handed 1970's Sunburst

- Taylor 814CE

- Rickenbacker 33012 Semi-hollow 12-string Fireglow
- Maton EM325C Electro-Acoustic Sparkle-Finish
- black '72 Fender Telecaster Deluxe (He's been using the two 72 tele's a lot lately). Also a yellow one.

- Maton M42512 12-string acoustic
- Jackson Roswell Rhoads
Amps and Cabinets
- Marshall JCM900 Dual Reverb 100 watt (below is a JCM800 - close enough to a jcm900 for the picture, right)
- Soldano Hot Rod 100 (HR-100) - using these lately with Silverchair

- Fender Tremolux (1960s model)
- Fender Twin Reverb

- Vox Amps (especially likes vintage ones)
- 4x12" Marshall cabinets

- Hiwatt Hi-Gain cabinets


Effects
- Digitech Whammy Pedal

- BOSS DD-20 Giga Delay
- Electro Harmonix Russian Big Muff
- Morley ABY Selector Combiner

- Boss DD-3 Delay
- Boss GE-7 EQ
- Rocktron Tsunami Chorus
- Electro Harmonix Small Stone Phaser
- ProCo Rat distortion pedal
- Ibanez Tube Screamer

- Z.vex Fuzz Factory
- Boss OC-1 Octave

- Electro Harmonix Micro-Synth
- BSS-AR133 Direct Box
- Boss Chromatic Tuner
- Cry Baby volume/wah pedal (regular wah pictured below)
- Electro Harmonix Little Big Muff

- Boss HM-3 Hyper-Metal


Strings and picks
- D'Addario 11-52 gauge guitar strings
- white triangular Tortex picks 2mm (may be custom made - similar to the dunlops)