Roberto Trujillo is a bassist who played in Suicidal Tendencies, Infectious Grooves, Black Label Society and Ozzy Osbourne's band before joining Metallica in 2003. Nice resume!

Although at times Trujillo has been known to use a pick, he prefers to use his fingers, like the early Metallica bassist Cliff Burton, but unlike Trujillo's predecessor Jason Newsted (who used a pick almost exclusively). He is also a very skilled slap bass player, as ably demonstrated in his work for Suicidal Tendencies, and particularly Infectious Grooves, where he used the technique extensively.

Let's look at what gear and equipment has been seen in Robert Trujillo's Bass Rig.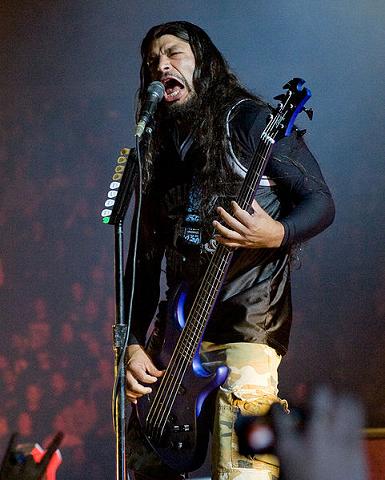 Click the gear images for more info & specs at Guitar Center and Amazon

Basses
- Nash P-Bass
- Warwick Robert Trujillo Signature bass (blue)
- In Aug 2008, it was announced Robert was using custom Yamaha basses. The basses are modeled after the TRB5PII and are "Rat rod" inspired.
- Fernandes Guitars Gravity 5-string basses particularly a model with a silver finish, blue flame decals, and EMG pickups
- Zon Guitars signature bass model, the Sonus RT
- Prior to Metallica, he was most often seen to play Tobias ( 5-strings Classics and Basics), ESP and Musicman Stringray basses (all 5-strings), as well as a Fender Precision Bass with Black Label Society and Ozzy Osbourne




- Rickenbacker 4001 Bass - modified (emg pickups)
- "Bass Of Doom" - a defretted mid-1960s Fender Jazz Bass formerly owned by Jaco Pastorius
Amps and Cabinets
- Ampeg SVT-410HLF cabinet

- Ampeg SVT-810AV cabinet

- Ampeg SVT-3Pro bass amp

- Ampeg SVT-AV amplifier
- Ampeg SVT II PRO bass amplifiers

- Mesa Boogie Rectifier amplifiers

- Mesa Boogie 4x12 speaker cabinets

Effects and more
- Morley Power Wah pedals
- EMG pickups
- Dunlop Crybaby Bass Wah Pedal
- Dunlop MXR Bass D.I.

- T.C. Electronic chorus pedal

- dbx 160X compressor (modified)

- BBE 411 Sonic Maximizer



- Furman PL-Pro Power Conditioners
- Shure UR-4D Wireless Receiver
- Korg DTR-1000 tuner
- T.C. Electronics D-Two

- Voodoo Labs Ground Control Pro
- Electro Harmonix Q-Tron
- MXR Smart Gate
- Boss OC-2 Octave pedal

- MXR Phase 100
- Sansamp Bass Driver DI

- Tech 21 XXL
Strings
- Dunlop Robert Trujillo Icon Series Bass Strings
- Dean Markley Bass Strings - Magnum roundwounds with a heavy B (.130)