Marty Friedman is a guitarist perhaps best known as the lead guitarist for the thrash metal band Megadeth ( no, it's not spelled megadeath ) for close to ten years. He now resides in Japan. He hosted his own television programs, Rock Fujiyama and Jukebox English on Japanese television.

Prior to joining Megadeth, Marty Friedman formed and played lead guitar in several other bands, including Deuce, Hawaii, Vixen (not the all-female band of the same name), and notably Cacophony. Cacophony featured neoclassical metal elements and synchronized twin guitar harmonies and counterpoints shared with guitarist Jason Becker on their two albums, Go Off! and Speed Metal Symphony. Friedman also has been releasing solo albums for quite some time.

Being a shredmaster, Friedman has played on some cool guitar rigs and gear, which we researched for your viewing pleasure.

Let's look at what gear and equipment has been seen in Marty Friedman's Guitar Rig.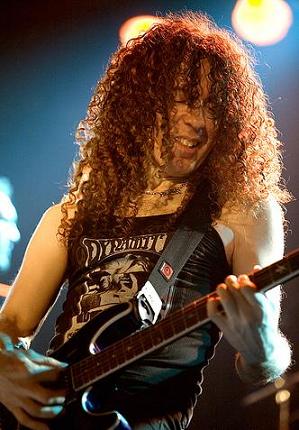 Click the gear images for more info and specs at Guitar Center and Amazon

Guitars
- Paul Reed Smith Singlecut and Tremonti model guitars

- In his Cacophony days, Carvin guitars, mainly a V220M model. Also used Carvin on his first solo recording, Dragon Kiss.
- Jackson Guitars (stopped using them in 2000 when Fender bought Jackson)
- Jackson Kelly (he made this model famous and had his own signature KE1 guitar model)

- Ibanez Guitars (has a singature model available in Japan)
- Ibanez Marty Friedman Model ( Ibanez MFM-1 signature guitar, which is basically an SZ model with stars on the frets and body)
- Gretsch Chet Atkins

- Fender Stratocaster
- Dean guitar
- Ibanez Iceman

- Ovation (various models) acoustic guitars

- Seymour Duncan/Ibanez pickups
- Fender Precision bass
Amps and Cabinets
- Bogner amps during Megadeth days (this is debated which model exactly. Likely Triple Giant preamp)
- CAE 3+ Preamps and VHT 2150 power amps (older days)
- Crate Blue Voodoo tube amplifiers (BV120HB)
- Crate 4x12 cabinets (BV412RV)
- ENGL amplifiers Special Edition heads (recent)

- ENGL Vintage cabinets

- Ampeg SVT Bass amp

- Various Marshall amps
Effects and more
- Samson Concert Series Wireless
- Planet Waves Cables

- Future Sonics ear monitors
- Boss GS-10 (has been discontinued)
- Boss GT-6 and GT-8 (GT-100 pic below)

- MAXON AF-9 Auto Filter
- Boss DD-5
- Sansamp GT2
- Sansamp Acoustic DI
- E/H Zipper envelope filter
- Roland VG 88 (VG99 pictured below)

- Fractal Audio Axe-FX Ultra



Strings and Picks
- D'Addario 010-.046  and .10 - .52 gauge strings
- Pickboy Picks
- Dunlop Tortex picks