Justin Chancellor is an English-born musician; currently the bass player for Tool and formerly of the band Peach. This guy provides the growling low end for Tool that we all love.
Let's look at what gear and equipment has been seen in Tool's Justin Chancellor Bass Rig.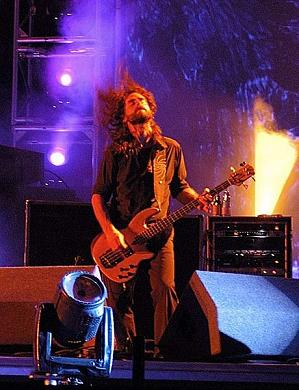 Click the gear images for more info & specs at Guitar Center and Amazon

Justin Chancellor's Strings and Picks
- Ernie Ball Hybrid Slinky bass strings (string gauges .045, .065, .085, .110) - has been using for years
- Dunlop Tortex picks
- Clayton 1mm picks
In this cool String Theory video, Justin is playing different songs on one of his gorgeous Wal bass guitars. Justin mentions his first guitar was something he received for his 8th birthday. When he was around 16 years old he had bought his first pack of Ernie ball strings. There's pictures of Ernie Ball custom gauge roundwound bass strings on the mixing console, and you can see a gauge 85 and gauge 110 package. Justin opens a pack of Ernie Ball strings, and it appears to be the Hybrid Slinky 2833 bass strings, which he has been known to use for years (over 20 years).
Justin Chancellor's Basses
- Wal basses - Chancellor's main bass is a Wal 4-string. The bass's woods and electronics help create the midrange cut and punch for which he is known. Justin also has three other four-string Wals: a less midrangy copy of his main bass (used on Wings for Marie parts one and two), a Mach III with a greenburst finish (used on "Right in Two"), and a lined fretless with a walnut top (used in the second verse of "Lateralus").
- Music Man Stingray bass - Used on "Forty Six & 2", "H." and "No Quarter".
TopGuitar (a European magazine) did a nice interview with Justin Chancellor at the Warwick Bass Camp. Five Wal basses. One is a fretless. He has two that are his main bass model. He also has some really cool vintage bass guitars – 5 to 10 really special ones. Justin shows off his vintage 1963 Fender Precision bass, lake placid blue color, which he says is really nice. Justin doesn't want perfect looking basses because he'd be afraid he'd mess the bass up, so he likes vintage ones that are worn a bit. In the video he also mentions that he was probably going to buy a Warwick bass for his collection.
Here's a Lake Placid Blue Fender Precision Bass, that Fender has released as part of it's 60's American Original line, reminiscent of the vintage bass Justin shows off:

Justin Chancellor's Amps and Cabinets
- Mesa Boogie cabinet 4x12

- Mesa Boogie cabinet 8x10
- Gallien-Krueger 2001RB head x2 (1 Dirty Channel, 1 clean Channel)

- Demeter Amplification VTBP-201S Bass Preamp running direct to PA
- Mesa Boogie M-2000 head
- Mesa Boogie M-Pulse
- Mesa Boogie Bass 400+

Justin Chancellor's bass Effects and Pedals
- Guyatone VTX Tremolo (used in "Right in Two")
-Dunlop Cry Baby 105Q Bass Wah (the Dunlop site says he "loves" this pedal)
- MXR M287 Sub Octave Bass Fuzz effects pedal
- Digitech Bass Whammy - Used on "Eulogy" (fifth up/sixth up harmony), "Pushit(Live)" (fifth up/octave up harmony) "Third Eye (octave up)," "Schism" (octave up), Ticks and Leeches (fifth up/octave up harmony), "Lateralus" (octave up), "Disposition" (fifth up/octave up harmony), "Vicarious" (octave up harmony), "The Pot" (octave up) and "Right In Two"(fifth up/sixth up harmony).

- Tech 21 SansAmp GT2 Tube Distortion
- Boss CE-5 Chorus Ensemble

- Boss BF-2 Flanger
- Boss DD-3 Digital Delay
- Guyatone BR-2 Bottom Wah Rocker Envelope Filter
- Colorsound Tone Bender Fuzz
- Foxx Fuzz/Wah/Volume
- Boss GEB7 Bass EQ - run into his 4x12 after the Turbo RAT for a grit channel, for a slight low end boost.
- Pro Co RAT Turbo Rat Distortion Pedal - run into Justin Chancellor's 4x12 before the GEB-7 for a grit channel.
- Crowther Prunes & Custard - Used on "The Pot" live.
- Lovetone Meatball Envelope Filter
- Lovetone Brown Source Overdrive
- Lovetone Wobulator Stereo Trem/Panner
- Lovetone Ring Stinger Ring Modulator/Octave Fuzz
- Line 6 FM4

- Red Witch Titan pedal
- Red Witch Pentavocal Trem
- MXR Bass Octave Deluxe
- Boss Chromatic Tuner pedal
- MXR Bass Envelope Filter
- Loop Bypass Box
- custom built tone generator
- Prescription Electronics Overdriver pedal
In 2010, Dunlop did an awesome video with Justin's Tool Bass Tech, who gave a bass rig tour of Chancellor's live bass gear rig. You can catch some awesome shots of Justin's bass pedals on his effects pedalboard: