Paul Gilbert is a guitarist best known for his work with Racer X and Mr. Big. Following his departure from Mr. Big, in which he played with Uber bass player Billy Sheehan, in 1996, Gilbert pursued a solo career. Paul Gilbert has been shredding on his electric guitar ever since.
Let's look at what gear and equipment has been seen in Paul Gilbert's Guitar Rig.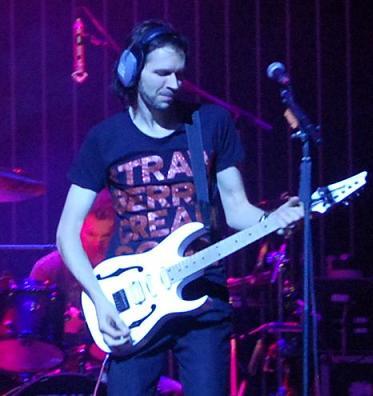 Click the gear images for more info & specs at Guitar Center and Amazon

Guitars
- Ibanez FRM100TR Fireman Paul Gilbert Signature Electric Guitar
- Ibanez PGM series guitars, specifically the PGM401, PGM300 and the PGM301
Notes: His guitars feature painted "f-holes".
- Ibanez PGM100RE which is a limited edition reissue of Paul's 89 guitar
- Ibanez AS103NT
- Ibanez reverse Iceman (with two humbuckers)
- Ibanez's PGMFRM1 Paul Gilbert "Fireman" guitar (2009)
- 2010 Ibanez Fireman red prototype
- 2009 Ibanez Fireman Kikusui Sake prototype
- 1995 Ibanez PGM800 ply-wood prototype
- Taylor 710ce acoustic guitar
- DiMarzio DP423 Paul Gilbert Injector pickups

- BC Rich Mockingbird guitars

Amps and Cabinets
- Marshall Vintage Modern 2266c 2x12" 50-watt combo amp and 2466 heads

- Marshall 2061X

- Fender Princeton Reverb

- Randall Isolation Cab

- Laney GH100L head and 2x12 cabinet

Effects
- Ibanez AF2 Paul Gilbert Airplane pedal
- Dunlop Crybaby 535Q Wah pedal
- Boss Digital Delay DD-3
- T.C electronic Flanger Chorus

- Electro-Harmonix Electric Mistress flanger
- MXR Phase 90 script logo
- Fulltone OCD Overdrive
- ADA preamps, vintage flanger, and rack effects (used prior to Laney)

- Eventide Harmonizer (Paul Gilbert used this in the old days)

- Boss CS-3 compressor pedal (Mr Big days)
- Boss OS-2 overdrive (Mr Big days)
- Boss TU-2 tuner pedal
- Boss GE-7 Equalizer EQ pedal
- Ibanez TS9DX Turbo Tube Screamer Effects Pedal
- Korg Pitchblack tuner
- Robert Keeley True-Bypass Looper
- Electro Harmonix Soul Preacher Compressor/Limiter
- Homebrew Electronics Detox EQ
- Homebrew Electronics UFO
- Homebrew Electronics THC Chorus
- Homebrew Electronics CPR Compressor
- Fulltone Soul Bender
- Voodoo Lab Pedal Power 2 Plus
- Boss SYB-5 Bass Synth
- THD Hot Plate Attenuator
- Extreme Isolation EX-29 Headphones

- Xotic AC Booster

- Xotic RC Booster

- HBE Bajo Mos
- Majik Box Fuzz Universe
- Tube-Tech compressor
- Hughes & Kettner Rotosphere

- Sennheiser wireless receiver
- Lehle P-Split
Strings, Picks, and More

- Ibanez Paul Gilbert Blue Signature Picks

- Dunlop Tortex orange Paul Gilbert guitar picks (.60mm)
- Ernie Ball RPS Reinforced Plain Slinky strings 9-42
 - Bullet Cables

- Hippie Straps
- vintage Makita drill