Eric Johnson is a guitarist and recording artist from Austin, Texas. Best known for his success in the instrumental rock format, Johnson regularly incorporates jazz, fusion, New Age, and country and western elements into his recordings.

Guitar Player magazine calls Johnson "One of the most respected guitar virtuosos on the planet". Johnson composes and plays not just instrumental songs, but also sings and plays piano.

Eric Johnson has used many amps, guitars and effects over his almost 30 years as a professional musician.

Let's look at what gear and equipment has been seen in Eric Johnson's Guitar Rig.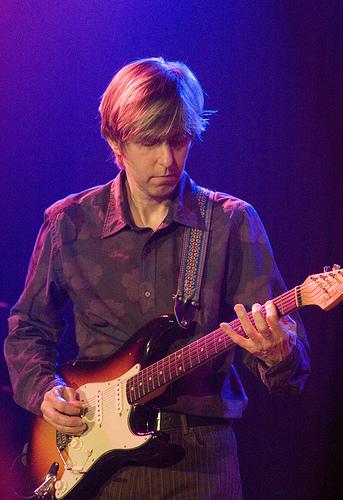 Click the gear images for more info and specs at Guitar Center and Amazon

Guitars
- Eric is well known as a Fender Stratocaster man. He has a ton of American made Fender strats.
- Fender Eric Johnson RW Stratocaster

- Fender Artist Series Eric Johnson Stratocaster

- Gibson ES-335 (1964)
- Gibson Les Paul's

- Gibson SG's

- Gibson Flying V's

- Martin Eric Johnson MC-40 acoustic guitar
- Fender '57 strat

Amps and Cabinets
Eric has said in interviews that his guitar amps are put together by Bill Webb, George Alessandro, or Bill Ussery.
- Eminence speakers EJ1250 - Eric Johnson signatures

- 2 Fender Deluxe Reverb Blackface Combo amplifiers 1x12

- blackface Fender Twin Reverb amps

- Fulton-Webb amp (dirty rhythm)
- Dumble Amp (also for dirty rhythm)
- Marshall Plexi 50Watt or 100watt Heads (for leads)
- Marshall 1960A and 1960B Straight and Slant 4x12 Cabinets

- Celestion 12" G12M Greenback Speakers

- 2 JBL EON powered monitors

- Mesa Boogie Mark II (previously used)
- Marshall JTM 45/100 amps
Effects
- Chandler Tube Driver
- Dunlop Eric Johnson signature Fuzz Face

- Dallas Arbiter Fuzz Face
- Dunlop Original CryBaby Wah Pedal
- Electro-Harmonix Memory Man Deluxe Delay

- TC Electronic TCF Chorus Flanger

- Maestro Tube Echoplex Tape Delay / Echo
- MXR 1500 Digital Delay
- Xotic Effects AC Booster

- Toadworks Barracuda flanger
- Ibanez TS808

- Boss DD-2 pedal
Strings and picks
- GHS Eric Johnson guitar strings

- Dunlop Eric Johnson signature pick (Jazz II red nylon picks)