Rivers Cuomo is the lead singer, guitarist, and songwriter of the "geek" rock band Weezer. His guitar rig has consisted of various gear and equipment over the past 15 years.
Before showing River Cuomo's guitar gear rig and equipment, Ihere are some cool facts about Cuomo.

Rivers Cuomo Graduated from Harvard University with a degree in English (2006). He actually lived in a dorm room.

"Weezer" the name of his rock band, is actually his childhood nickname.

Weezer was originally signed to record the main song for Shrek 2 soundtrack.

Was a metal head as a teenager.

Alrighty, enough fun facts, let's look at what gear and equipment has been seen in Rivers Cuomo's Guitar Rig.
Below you'll see the guitars, effects, amps, cabinets, strings picks, and more!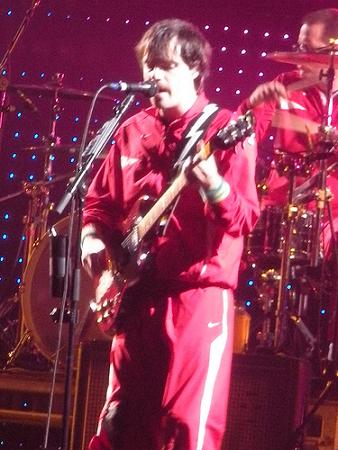 Click the gear images for more info and specs at Guitar Center and Amazon

Guitars
- Charvel Stratocaster-style guitar, a "Model 2" - One of Rivers Cuomo first guitars
- Fender Stratocaster with two of the pickups replaced with a black Seymour Duncan TB59B1, AKA the "Trembucker 59", and a red and yellow DiMarzio "Humbucker From Hell"




- Warmoth Stratocaster style guitar
- red 60's Fender Jaguar

- Gibson Les Paul Junior Special, double cutaway

- Gibson Les Paul Junior
- 1974 Gibson Acoustic J-45
- Gibson Flying V

- Gibson Explorer

- Various Stratocaster copies
- Red Gibson SG with the Thai word Farang on it, meaning "a white foreigner."

- various Gibson Les Paul guitars


Amps and Cabinets
- Randall 120 watt non-tube head powering a Randall 4x12 cabinet (used back in the day)
- Tall '68 Marshall 4X12 cabinet (looks like an 8x10)
- 1993 Marshall 100 watt JCM-900 "SL-X" Model amplifier (Rivers Cuomo got this in 1993)
- 1992 Marshall 30th Anniversary 6100LM amp
- Diezel VH-4 amplifier

- Vox AC-30
- Marshall JCM 2000 head
- Marshall slant 4x12 cabinet w/ 25 watt green back Celestion speakers

- Mesa Mark 1 and Mesa Dual Rectifiers

- old Orange Matamp OR100 guitar amp head (as seen in Say It Ain't So video)


Effects and more
- Line 6 POD Pro - Weezer used these solely on some tours, without any amps or cabs.

- Jim Dunlop Crybaby Wah pedal
- Shure U4D wireless system
- Boss Turbo Distortion overdrive pedal
- Ibanez TS-808 Tube Screamer Overdrive

- Z-Vex pedals - Fuzz Factory
- Electro-Harmonix Big Muff
- Boss Chromatic tuner pedal
- Talk Box (used on Beverly Hills solo. If you need proof, check the video of Weezer on Letterman)
Strings and Picks
- GHS Boomer strings, size .10' to .46 gauge
- Jim Dunlop plain gray pics, the .73's from 1992-1999, and most recently uses the .60s