Stevie Ray Vaughan was one of the world's most influential blues guitarists. In 2003, Rolling Stone magazine ranked Stevie Ray Vaughan #7 in their list of the 100 Greatest Guitarists of All Time. We want to see the guitar gear rig and equipment behind the man.
After some research, we've compiled a list of some of the gear and equipment that was reportedly in Stevie Ray Vaughan's rig. Much of the gear models is still availble on the open market.
Let's look at what gear and equipment has been seen in Stevie Ray Vaughan's guitar rig.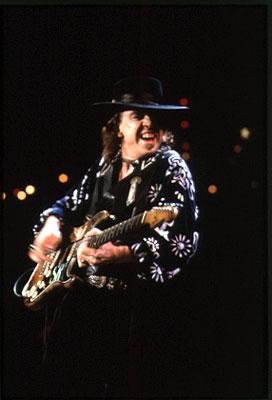 Click the gear images for more info and specs at Guitar Center and Amazon

Guitars

- Vaughan's main guitar was a beat up Fender 1963 Stratocaster which had a Fender `62 rosewood neck and was referred to as `Number One'. The body has the initials `SRV' on the lower part of the scratchplate and is fitted with a left-handed vibrato system. the neck was refretted with Dunlop 6100 frets.
- 'Lenny'- Stevie Ray Vaughan's red, maple neck Fender Strat which dates from `63 or `64

- yellow Fender Strat from `64
- Fender orange 1960 Strat

- Fender blonde `57 Strat

- `58 Gibson 335 guitar

- cherryburst Hamilton Lurktamer with his name on the neck (a present from Billy Gibbons)
- National Duolian acoustic which Stevie claimed was once owned by Blind Boy Fuller
- Guild F-412 Jumbo 12-String Acoustic Guitar

Amps and Cabinets

- Fender Super Reverb Combo / 4x10
- Fender Bassman amplifier
- Marshall Major 200-watt heads (Super lead and Super P.A.) with 8x12" and 4x15" cabs
- Marshall JCM800 half-stack
- 1962 Fender Twin Reverb amp

- 1964 Fender Vibroverbs with 15" speakers
- Dumble Steel String Singer head with a Dumble 4 by 12 bottom
- Music Man 2x12 combo amp
Effects and other gear

- Vox V847 Wah-wah pedal
- Ibanez Tube Screamer - TS808 initailly then TS9, also TS-10
- UniVox UniVibe (Dunlop)
- Dallas Arbiter Fuzz Face
- Diaz Texas Square Face Fuzz
- Diza Texas Ranger Treble Boost
- Tychobrahe Octavia
- Fender Vibratone
- MXR M-144 Loop Selector
- Cyclosonic auto panner

Strings
- GHS 1300 Low Tune Pure Nickel Rollerwound Electric Blues SRV Guitar Strings

- heavy gauge GHS strings - 0.013, 0.015, 0.019 (unwound), 0.028, 0.038, 0.058 (also used .012 boomers)
- White guitar strap with black notes (see reissue strap below)