Bruce Springsteen, is one hell of a singer, songwriter and guitarist. Playing with the E Street Band, Springsteen is most widely known for his brand of heartland rock infused with pop hooks, poetic lyrics, and Americana sentiments centered around his native New Jersey.
We know him as "The Boss". With a name like that he must have one hell of a guitar rig. We spent tons of time researching Bruce Springsteen's guitar gear rig and equipment. Surprisingly there is less info out there than one would think. We have a good collection of stuff he has reportedly used and currently uses. If anyone can add to this, please post a comment
Let's look at what gear and equipment has been seen in Bruce Springsteen's Guitar Rig.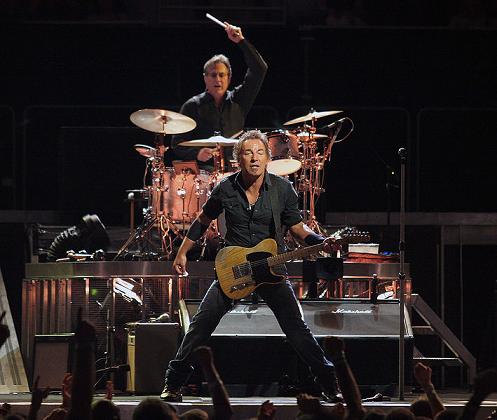 Click the gear images for more info and specs at Guitar Center and Amazon

Guitars
Note: Bruce Springsteen has played a ton of different guitars. We'll try to give you a good feel for what he's played here, but aren't going to show them all.

Fender Stratocasters (cherry red, white, natural, silver)
Fender Jazzmaster (natural)

Fender Mustang (natural)
Fender Telecasters:
- '52 Fender Telecaster Esquire (natural)

- '52 Re-Issue Fender Telecaster butterscotch blonde (this is one of Springsteen's best known guitars)

- '53 Fender Telecaster (natural)
- Fender Telecaster with a Bigsby tremolo (2-color sunburst)
- '53 Re-Issue Fender Telecaster (2-color-sunburst)
- '63 Re-Issue Fender Telecaster (black)

- Fender Telecaster 12 string (brown-sunburst)

Gibson guitars:
- Gibson ES-335

- Gibson J-45
- 1958 Gibson J-200 (3-color-sunburst)

- Gibson J-40 (natural)
- 1967 Gibson Les Paul (cream)
- Gibson 57 Les Paul Junior (pictured playing with Gas Light Anthem in summer 2009)

 - Gretsch Country Gentleman

- Rickenbacker 330-12 1967 (natural)
- Rickenbacker 330-12 (black)
- Danelectro 56-U2 (maltshop creme)

Acoustics:
- Takamine EF341C guitar (black)

- Takamine EF350SMCSB guitar (3-color-sunburst)

Amplifers and Cabinets
- Mesa Boogie Electra Dyne heads (2012)
- Mesa Boogie Lonestar Regular, Tan, 1x12" (eyewitness in 2009)
- Fender Twin Reverb amps (Springsteen has many of these amps in his rig)

- Marshall JCM800 Cabinets 4x12" (you will notice these are behind him and are tilted way back)

- Mesa Boogie Mark 3 amps
- Fender Bassman
- Rivera Chubster amp
-VOX AC30 amplifier

Effects and pedals
- BOSS BF-3 Flanger
- BOSS CS-3 compressor
- BOSS SD-1 Super Overdrive

- Boss digital delay DD-3
- BOSS OD-3 Turbo Overdrive
- BOSS PSM-5 (power supply and masterswitch)
- Lexicon LXP-15 Delay
- Boogie Mark 2
- MXR distortion box
- Petillo Dist / Boost / Treble Boost
- Rockman Chorus
- Hohner Marine Band Harmonicas


Microphones
- Audix OM-3

- Shure SM57


Strings and picks
- D'Addario Strings (used on Springsteen's acoustic guitars. Not sure what gauges.)
- Dean Markley Strings (used on his electrics) Gauges: .010, .013, .016, .030,.038, .048
- Fender Heavy Guitar Picks (white)