Eric Clapton, nicknamed "Slowhand", is a Grammy Award winning English guitarist, singer, songwriter and composer. He is one of the most successful musicians of the 20th and 21st century, garnering an unprecedented three inductions into the Rock and Roll Hall of Fame (The Yardbirds, Cream, and solo). Often viewed as one of the greatest guitarists of all time among critics and fans alike, Eric Clapton was ranked 4th in Rolling Stone's list of  and #53 on their list of the The Immortals: 100 Greatest Artists of All Time. Although Clapton's musical style has varied throughout his career, it has always remained rooted in the blues.
Clapton has had a lot of gear over the years and we will list some of the amazing gear that has helped shape the Clapton sound. Let's look at what gear and equipment has been seen in Eric Clapton's Gutiar Rig.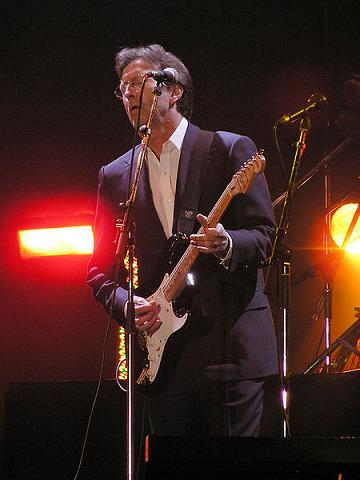 Click the gear images for more info and specs at Guitar Center and Amazon

Guitars
- Fender Eric Clapton Signature Stratocaster (aka Blackie)
- Martin 000-28EC Eric Clapton signature model
- Gibson 1960 Les Paul Standard Sunburst

- Gibson SG Standard

- Gibson ES-335

- Gibson Firebird

- Fender Telecaster blonde 1952

- Gibson Signature Eric Clapton 1960 Les Paul guitar
- black Gibson Les Paul Custom (seen playing on stage with John Lennon in a 1969 video)

- BC Rich Seagull
- Gibson SG with Fool paint job
- Gibson Byrdland ("A Concert for Bangladesh")

- Gibson 1957 Les Paul (red, but was previously a gold top. Also owned by George Harrison. Originally had a Bigsby)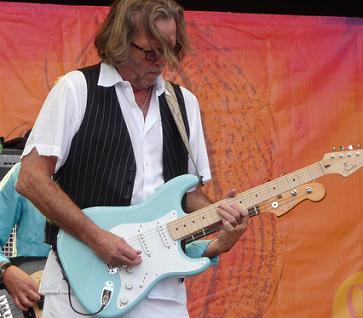 Amps and Cabinets
Fender EC Clapton guitar amps:
- Fender Eric Clapton Signature EC Tremolux

- Fender tweed Champ amp (used on Layla). Fender Clapton Vibro-Champ amp:
- Fender Clapton Twinolux

Other amps:
- Vox AC-30
- Marshall 1962 2X12 45-watt combo (BluesBreaker) (output tubes changed to KT66's)

- Marshall JCM800 Lead 1959 100-watt Marshall Heads
- Fender Twin (Tweed. Modified by Caesar Diaz, used in 80's and 90's)

- Marshall 1960B  and 1960A  Cabinets / 4x12

- Marshall JTM-45 Head
- Soldano SLO-100 heads

- Cornell Custom 80 combo amplifier
- 1974 Pignose amp
- Session Rockette:30 amp
- Music Man amps
- Dumble amp
- Fender Vibro-king amplifiers

- Fender Custom Shop '57 Twin Reissue
Effects and More
Note: Eric Clapton does not use an overdrive pedal. He gets all of the overdrive from the 25dB boost in his guitar, a Fender Eric Clapton Signature Stratocaster.
Note: Digitech made an Eric Clapton CrossRoads Signature pedal
- Boss Chorus CE-3
- Leslie pedal
- Jim Dunlop 535 Crybaby wah-wah pedal
- Dunlop Jimi Hendrix Wah Pedal
- Vox Wah Pedal
- Boss TR-2 Tremelo Pedal
- Glass Slide
- DBX 160 compressor

- Samson wireless pack
- Avalon DI box
Strings and picks
- Ernie Ball 10-46 gauge Regular Slinky strings (for electric)
- Martin MEC13 Clapton's Choice Bronze Acoustic Guitar strings
- Ernie Ball Regular Slinky Acoustic Phosphor Bronze .012 - .054
- Ernie Ball heavy guitar picks
- Ernie Ball black Polypro strap