Vinnie Paul has played in Pantera, Tres Diablos, Damageplan, and Rebel Meets Rebel with his brother, late guitarist Dimebag Darrell. Currently, Paul, along with members from Mudvayne and Nothingface, have formed the supergroup - Hellyeah. His biggest influence is drummer Peter Criss of KISS.
Let's look at what drum gear and equipment has been seen in Vinnie Paul's Drum Kit.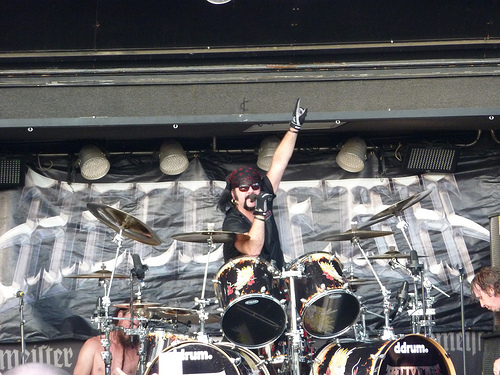 Click the gear images for more info and specs at Guitar Center and Amazon

Drums
- ddrum Signature Vinnie Paul Drum sets and ddrum Vinnie Paul Signature Snare Drum
Previously:
Pearl MRX Masters Series:In snake skin finish (Vinnie Paul Custom Wrap):- 24x20 bass drum
- 2 14x14 tom
- 15x15 tom
- 18x16 floor tom
- 14x8 Vinnie Paul Signature snare drum


Cymbals
- Vinnie has played Sabian Cymbals for a long time
- 14" AA Rock Hi-Hats

- 18" AA Rock Crash

- 18" and 20" AA Chinese cymbals

- 18" Hand Hammered Rock Crash
- 12" Ice Bell
- 22" Hand Hammered Power Bell Ride



Sticks
- Vic Firth Vinnie Paul Drumsticks
- Vic Firth American Classic Rock and metal drum sticks
Notes: Vinnie is usually witnessed playing his sticks backwards.

Hardware:
- ddrum Vinnie Paul Core Bass Drum Pedal

- Evans EQ Pad Bass Drum Muffling Pad

- Evans Magnetic Head Drum Key and Evans Compact Flip Drum Key



Drum Heads
- Evans drum heads:
- Evans EQ2 Clear batter

- Evans Resonant Black

- Evans Rock AF
- Evans ST (Super Tough) Dry

- Evans Hazy 300 Snare Side
- Evans Genera G2 Clear