Chris Adler is a drummer, best known as a member of the metal band Lamb of God. He also plays the piano, acoustic guitar, bass guitar, and saxophone. Chris Adler is often recognized as one of the better metal drummers in the industry. What type of drum gear does such a revered guy play?
Let's look at what drum gear and equipment has been seen in Lamb of God's Chris Adler's Drum Set.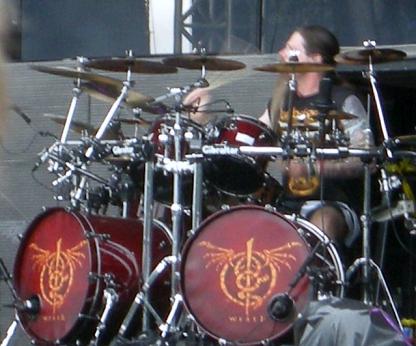 Click the gear images for more info and specs at Guitar Center and Amazon


Drums:
- Mapex Chris Adler signature 12x5.5" snare (new as of summer 2009)
Saturn Series Mapex drums (this kit info is from 2007)
- 12"x5.5" (discontinued size) inch Mapex Black Panther Adler signature Birdseye-Maple snare
- 2 22"x20" kick drum
- 10"x9" tom tom
- 12"x10" tom tom
- 16"x16" floor tom
- 18"x16" floor tom


Cymbals:
Notes: Chris Adler has used Meinl Cymbals.
All Meinl Cymbals:

- 14" and 16" Generation-X Filter china cymbals

- 14" Soundcaster Custom medium hi-hat (top) and 14" Byzance dark hi-hat (bottom)
- Meinl Classics Powerful Bell Cymbal 8"
- 12" Soundcaster Custom distortion splash

- 8" Byzance traditional splash

- 14" Soundcaster Custom medium crash

- 16" Amun thin crash (previously used)
- 16" Mb8 Medium Crash

- 18" Byzance Brilliant medium thin crash

- 24" MB20 Pure Metal ride (Designed by Chris Adler!)

- 17" Byzance china (prototype)


Hardware and sticks:
- Pro-Mark Chris Adler signature drumsticks
- Meinl Artist Series Chris Adler Stick Bag

Pedals:
- Trick pedals ( Trick Pro 1-V) starting in 2008

- Chris has previously been seen using Axis Longboards in Classic Black (2 singles)



- Chris also has been seen using DW 9000 series pedals in the past

- Front Bar, Clamps and Boom Stands, GIBRALTAR hardware.
Drum Heads
Aquarian Drum Heads (as reported in 2007):
- Force I Bass Drum Batter Heads (with Kick Pads)

- Hi-Energy Snare Batter Head

- Response 2 Clear Tom Batter Heads

- Classic Clear Tom Resonant Head