John Mayer sure can rock out on a guitar whether it be a Fender Stratocaster, a PRS, or a Martin guitar. John Mayer is a great blues guitar player in addition to be a great singer also. If you are into the blues and rock genre, John is definitely an artist worth checking out. He's done an amazing job playing with the Grateful Dead guys also.
Let's look at what gear and equipment has been seen in John Mayer's Guitar Rig.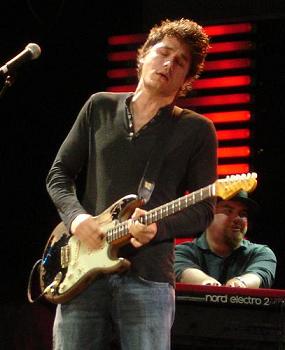 Click the gear images for more info & specs at Guitar Center and Amazon

Guitars
Paul Reed Smith PRS John Mayer signature electric guitars
- Paul Reed Smith PRS Private Stock "Super Eagle" guitar (only 100 were made for sale in 2016) and "Super Eagle II" guitars
- Fender Stratocaster guitars (John Mayer Signature stratocaster)
- Fender ("The Black One") Stratocaster (was reproduced for sale - announced 2009)
- Fender Jimi Hendrix Monterey Pop Strat (this is the redish guitar with the flowers on it)
- Fender Stevie Ray Vaughn Stratocaster
- Fender Stevie Ray Lenny reproduction strat
- Martin JM Acoustic guitars (his signature OMJM model)
- Various other Fender's and there is a pic with him playing a Paul Reed Smith
- Gibson L5 featured throughout "Where The Light Is"
- Gibson SG guitars (seen playing a cherry red one and a white one)
- Duesenberg Starplayer guitar
- various Paul Reed Smith guitars (including hollow bodys)
- Martin 0045SC John Mayer Stagecoach Edition Acoustic Guitar
- SRV Charley replica made by Rene Martinez
- Fender Cypress Mica signature Strat
- "Vultures" gold Strat
- Guild Starfire IV guitar
- EVH Frankenstein replica guitar
Notes: John has said (in a special features dvd) that he must have over 200 guitars!


Amplifiers and Cabinets
- "John Mayer Signature Series Two Rock" amp heads (based on theCustom Reverb Signature amp)
- Two Rock 2×12 guitar cabinets
- Dumble Overdrive Special amp head
- Leslie cabinet
- Victoria Bassman Clone (45-410 model)
- Victoria Reverberato Head
- Fender Super Reverb Blackface
- Fender Vibro-King
- Fender Blues Junior (studio - as reported in his May 2008 blog)
- Fender Vibrolux
- Dumble Steel-String Singer amplifier head (clean. No overdrive)
- Fender Band Master head
- Alessandro cabinets, open back (celelstion speakers)
- black face Fender Bassman head


Effects
NOTE: John's rig is complex and changes quite often.
- Boss Blues Driver Pedal (Keeley mod)
- Keeley Katana Clean Boost
- Roger Linn Adrenalinn III Effects Box (also has Version II in his rack)
- Custom Audio Electronics MIDI foot controller
- Hughes and Kettner Rotosphere
- T-Rex CompNova Compressor
- T-Rex Mudhoney
- T-Rex Replica
- T-Rex Dr.Swamp
- Boss DD-5 digital delay


- RMC8-Guitar Eqwahlyzer (wah with eq on it)
- Dunlop Crybaby wah pedal - John has used the Buddy Guy model
- Electro Harmonix Memory Man
- MoogerFooger Analag Delay
- Fulltone Full-Drive Overdrive Pedal
- Ibanez TS808 booster
- Ibanez TS-9 and TS-10's
- Marshall Bluesbreaker (John prefers the original version of this pedal)
- Fulltone Supa-Trem Tremolo Pedal
- Way Huge Aqua Puss analog Delay
- Electro-Harmonix POG
- Korg G4
- Boss Chromatic tuner pedals (he has 4 of these tuners on the floor for different instruments)
- Dunlop Power Brick
- Whirlwind A/B selector
- Line 6 DL4
- Klon Centaur overdrive pedal
- Eventide TimeFactor Twin Delay Guitar Effects Pedal (more than one in the rack)
- Boss GE-7 EQ pedal
- Analog Man 3 knob small Compressor pedal
- Radial JDI Passive Direct box
- Univox Univibe
- Hermida Audio Zendrive pedals
- Pete Cornish pedal
- Fulltone Tube Tape Echo
- Xotic Wah XW-1 pedal
- TC Electronic Polytune pedal
- Electro-Harmonix Q-Tron+
- MXR Phase 90 (script version)
- Strymon Volante
- Source Audio True Spring with Tap Switch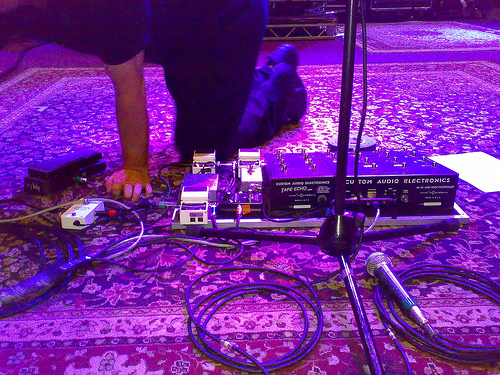 Strings, Picks and Accessories
- Ernie Ball Regular Slinky and Power Slinky guitar strings
- Ernie Ball Earthwood Phosphor Bronze medium light acoustic guitar strings
- Ernie Ball Coated Titanium RPS Slinky Acoustic Light strings
- D'Addario EJ16 light-gauge, phosphor-bronze strings on his acoustic. There were some old ads (2002) that showed him as a D'Addario user.
-  Dunlop Tortex .60mm (as reported by one of our readers who caught a pick)
-Ernie Ball Black guitar strap (as seen in many pics)
- Fender guitar Straps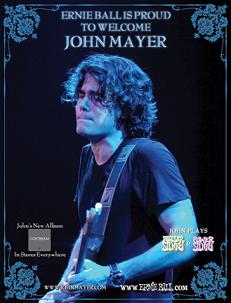 John's live vocal sound
- Shure Beta 58A (Mayer's vocals live)
- Neumann KMS105
- Universal Audio 1176 inserted
- Avalon U5 direct box (this is an important piece of Jonh's sounds)
Here are some good pictures of John mayer's 2007 guitar rig, taken by j4mie and licensed under Creative Commons.
Click the images to enlarge them fullsize in a shadowbox.