Keith Urban has been in many magazines, and is a well known celebrity. But don't forget, Keith Urban isn't just a celebrity, he is one awesome guitar twanging country player, who plays a mean guitar.
Let's look at what gear and equipment has been seen in Keith Urban's Guitar Rig.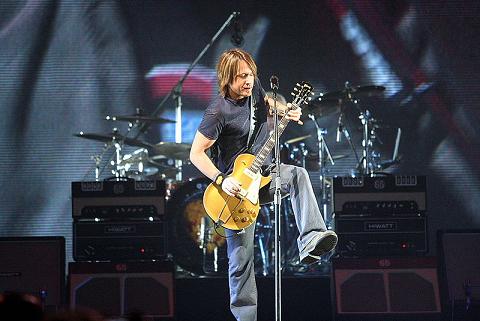 Click the gear images for more info & specs at Guitar Center and Amazon

Guitars
- Fender 40th Anniversary Custom Shop Telecaster (bought it in 1999 in NY, when he first visited USA)
- Nashville Anniversary Telecaster with the Neck and middle pickups removed
- Fender Clapton Stratocasters (has 3 on the road)
- Gibson SG guitar

- Gibson Les Paul Juniors ('57)

- Gibson acoustics (in a pic he appears to be playing a Gibson Acoustic Advanced Jumbo guitar)
- '63 Gibson Melody Maker
- Gibson '52 Les Paul Gold Top (bridge by Joe Glazier)
- Mini Maton – EMD/6 "Diesel Special" acoustic
- Gibson '62 ES-335 guitar (sunburst)

- Fender La Cabronita Telecaster (his is white)
- Martin OMJM John Mayer acoustic

- Dan Strain Danocaster guitar (blonde, maple neck)
- Pensa-Suhr guitar (bridge has 2 single coils wired in series)
- Fender cracked mirror finish telecaster (built by Fender masterbuilder)


Amps and cabinets

Notes: Keith uses many different amplifiers.
- vintage Fender amp heads
- Suhr amplifier head
- Marshall '69 Super Bass
- Alessandro open back 2x12 cabs
- Matchless DC30 2x12 combo's
- Matchless 2x12 Cab's
- Matchless DC30 head
- 2002 Marshall JTM 45 offset reissue
- Marshall JCM800 2203 head:
- Marshall 4x12 cabinets

- Hiwatt Custom 50 amps and Cabinets

- 65 Amps
- Bad Cat amps (according to Bad Cat website)

Effects
Keith's 2011 Rig had the following gear:
- Boss Volume pedal

- Midi Switcher
- Boss Compression Sustainer pedal
- Analogman Juicer
- Voodoo Lab Pedal Power 2+
- Shure wireless UR-4 Dual Receivers
- Avalon U5 D.I. (acoustics)
- Radial JX44 Air Control
- Dunlop Rack Wah
- Effect Gizmo rack unit
- Klon Centaur pedal
- Boss GE-7 EQ pedal
- Demeter The Compulator
- Wampler Ego Compressor pedal
- Suhr Koko Boost pedal
- T-Rex Alberta Overdrive

- MXR Distortion III

- Boss Chorus CE-2 pedal
- XTS Precision Overdrive
- MXR GT-OD pedal
- Pro Co The Rat (original)
- MXR Bass Octave Deluxe pedal
- Wampler Pinnacle Distortion
- Palmer speaker simulator
- TC Electronic G-Major
- Marshall Valvestate amp in rack
- Wampler Paisley Drive
- B.K. Butler Tube Driver
Keith has also been seen using:
- 2 GCX loop switchers with a Bradshaw Foot Controller
- Carl Martin Compressor
- Dunlop Cry Baby Wah Wah
- Fulltone Overdrive (Blue)
- Fulltone Overdrive (Yellow - with comp settings)
- Phaser
- Line 6 Echo Pro
- Boss Digital Delay pedal
- Boss Blues Driver
Strings and Picks
- D'Addario EXL110 Nickel Wound, Regular Light, 10-46
- D'Addario EJ16 Phosphor Bronze, Light, 12-53
- D'Addario EXL115 strings
- D'addario EXP12 strings
- Dunlop Herco grey medium picks .75mm