Richie Sambora is a rock guitarist, singer and songwriter who is the lead guitarist of the rock band Bon Jovi. Along with frontman Jon Bon Jovi, he forms the primary songwriting unit of the band.
Richie Sambora has played with tons of different guitar gear and equipment over the years while shredding it up in Bon Jovi. We are going to profile some of this sweet gear.
Let's look at what gear and equipment has been seen in Richie Sambora's Guitar Rig.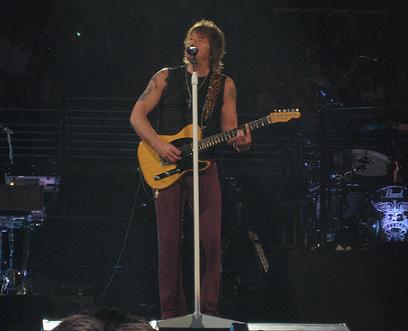 Click the gear for more info & specs at Guitar Center and Amazon

Guitars
- Ovation Richie Sambora Signature Elite Double Neck
- ESP Richie Sambora SA-2 guitar
- A large variety of Fender stratocasters
- Fender Telecaster doubleneck guitar
- custom "Sambora" guitars built by Richie Sambora's guitar tech Chris "Lumpy" Hofschneider
- Zemaitis Guitars
- Floyd Rose guitars
- vintage and custom shop Gibson guitars
- Gibson Les Paul Standard sunburst

- Gibson Les Paul goldtop

- Gibson Flying V (appears to be Korina, in "Everyday" video)

- Gibson ES-335

- '51 Fender Telecaster

- Fender Custom Shop Eric Clapton Stratocaster
- Fender "NoCaster"

- Fender Telecaster Thinline Custom

- Charvel Stratocaster
- Ovation acoustics (various models, including a double and triple neck, and Adamas)

- Gretsch guitars

- Taylor RSSM Sambora model acoustic
- Taylor doubleneck acoustic
- Martin Sambora 6 and 12 strings (click below to checkout the 6 string)
- Martin 000-42
- Guild F-50 12-string
- Gibson SG Junior (white)
- Kramer Sambora Signature guitars
Amplifiers and Cabinets
- Blackstar Artisan and 100 Series One 1046L6 amp heads
- Blackstar HT Studio 20 amp
- Marshall JCM2000 DSL series amps
- Marshall JCM800 2203 heads
- Marshall 4x12" speaker cabinets

- Fender ToneMaster amps and 4x12" speaker cabinets (mini pic below)
- Fender Bassman 4x10" combo
- Fender SuperTwin (pictured below is a regular Twin)

- Vox AC30
- VHT Pitbull
- Mesa Boogie Dual Rectifier
- Hughes & Kettner amp
- Diezel Herbert amps

- Divided by 13 amplification (they make custom amps)
- Matchless amps
- Bogner Ecstasy
- Custom made 4x12 cabinets
Effects and more
- MIDI floor controller
- Boss SD-1 Super Overdrive

- Talk Box
- Fulltone Choral Flange
- Dunlop Crybaby
- Vox wah pedal
- A/B switcher
- Dunlop Rack-Wah
- T.C. Electronics 1210 Spatial Expander/Stereo-Chorus Flanger
- Eventide H-3000 Harmonizer
- Shure SM-57 Microphones
 MXR DynaComp (modified?)
- Klon Centaur pedal
- FoxRox Octron
In 2010 Richie had a guitar rack made for him. The following gear appeared to be in it.
This rack may be mainly used for studio recording (and another rack for live):

- 2 RJM Effect Gizmo's
- Custom Suhr amp switcher
- BAE mic pre
- VHT Power Amp
- Voodoo Lab Pedal Power AC and 2 Plus
- Furman Power Rack unit

- Eventide Eclipse V4 Rack unit

- Empirical Labs Distressor
- A Designs 500HR Rack with two modules
- Tone Freak Effects Abunai 2 pedal
- Tone Freak Effects Naked OD
- Tone Freak Effects Mello Tremo
- BBE Soul Vibe pedal
- Analog Man Octron pedal
- Hermida Zendrive pedal
- Boss OD-1 Overdrive pedal
- Hartman Compressor pedal
- Retro-sonic Vintage Vibes Chorus pedal
- Maxon AF-9 Auto Filter
- MXR Phase 90 Script logo pedal
- MXR EVH Flanger pedal
- Electro-Harmonix Micro POG
- Electro-Harmonix Deluxe Memory Man pedal

- Axess Electronics Midi Controller board
- Ernie Ball pedal
- Moollon Wah pedal (Korean made pedal)
- Boss Chromatic Tuner pedal
Strings and picks
- D'Addario Strings: EXP15, EXP38, EXL110, EXL115, EPS510, EPS540  (Sambora is listed on their site)
- GHS Strings (Sambora is listed on their site) .009 strings in the studio and gauge .010 strings live
- D'Andrea 351 .71mm Black Celluloid picks