Tommy Lee has done a lot of things. He's played drums with one of the best know hair bands, Motley Crue. He's had hollywood's hot babes including Pamela Anderson and Heather Locklear. He's had a reality tv show, an adult movie, a book, and much more (we'll forget about Rockstar Supernova?). In addition to all this stuff he's had many different drum equipment setups over the years. We'll profile one of his more recent drum kit setups.
Let's look at what drum gear and equipment has been seen in Tommy Lee's Drum Kit.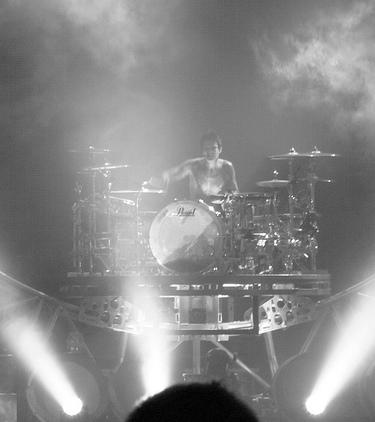 Click the gear images for more info and specs at Guitar Center and Amazon

NEWS note: Spring 2011 it was announced that Tommy has started using Pearl drums. The Pearl drums site says he is using a custom E-Pro live drum set on tour.

There is a great diagram of Tommy's setup from an awesome forum over at Drummer's World, administered by Tommy's Drum Tech. There is some good info on there.
Tommy Lee plays DW drum kits. You can see above a listing of DW drum gear Tommy was using. The DW website shows a listing of drums Tommy plays and they are somewhat different than the pic above:

DW Drums:
- DW Collector's Series Maple Drums in Ruby Glass FinishPly with Chrome Hardware
- 5x14 Satin Oil Edge Snare Drum
- 11x14 Tom-Tom
- 13x16 Tom-Tom
- 14x18 Tom-Tom
- 16x26 Bass Drum
- 18x32 Bass Drum

For Drum Hardware Tommy Lee is using DW drum gear:
- 9002 Double Pedal

- 9500 Hi-Hat Stand

- 9300 Snare Drum Stand (x2)

- 9900 Double Tom Stand

- 9700 Cymbal Stand (x5)

- Floor Tom Legs
- 9100 Drum Throne



Tommy Lee uses all Zildjian Cymbals:
- 14" Z Custom Splash
- 15" A Rock HiHats

- 15" A New Beat HiHats

- 18" Z Custom Projection Crash
- 19" Z Custom Medium Crash
- 19" Z Custom Thrash Ride
- 20" A Custom Medium Crash

- 20" Z Custom Ride
- 9.5" Large Zil Bell
- 22" Oriental China Trash




Fun fact: Tommy Lee goes through between 3-5 sets of drumsticks a show.