Mike Dirnt is best known as the bass player in the band Green Day. He's lived a tough life and it's good to see him doing well in one of the largest bands around. A less know fact is that Green Day's Mike Dirnt is also the bassist in another band called The Frustrators. Mike has some pretty cool bass gear.
Let's look at what gear and equipment has been seen in Mike Dirnt's Bass Guitar Rig.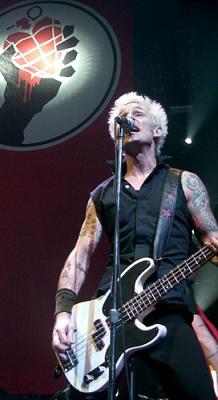 Click the gear images for more info and specs at Guitar Center and Amazon

Basses

- Fender Mike Dirnt Precision Bass (in several different colors including: black, white and a two-tone sunburst )

- Fender Squire Mike Dirnt Bass (a budget version of his Fender bass)

- Fender 1969 Vintage Precision Bass (w/ a BadAss II Bridge, Seymour Duncan Antiquity Pride II Pickups) aka. "Stella"
- Fender Standard Precision Bass

- Fender American Jazz Bass (used with the S-1 Switch "down")

- Fender 1966 Vintage Precision Bass
- Fender '71 Precision bass (maple neck)
- Gibson G-3 Bass (no longer used)
- Peavey Patriot bass
- Kramer bass
- Jackson Rhoads bass
- Fender pawn shop basses
Amplifiers and Cabinets
- Fender Bassman 300 Pro
- Fender Pro 1200 Head (x2) and Fender Pro 800 Head (x1)

- Fender Pro 810 Cab (x3+)

- Mesa/Boogie M-2000 Head (x3)
- Mesa/Boogie 6x10 Custom Cab (x2+), 1x18 (x2+), and 2x10 (x2+) cabs
- Yamaha G100 guitar amps through the Mesa 6x10 cab (Kerplunk)

Strings, Picks, Effects and more

- Fender Medium Nickel Plated Bass Strings

- Shure ULX Wireless
- Custom Audio Electronics Switcher
- Custom Moody 2.5" Signature Leather Straps
- Custom "Dirnt" Dunlop Tortex Picks .76mm and .88mm
- Zinky Master Blaster Boost Pedal
- True Grit Overdrive Pedal