Billie Joe Armstrong is best known as the lead vocalist and guitarist for the punk rock band Green Day. Armstrong is often credited with the revival of punk in the early 1990s with Green Day.
Let's look at what gear and equipment has been seen in Green Day's Billie Joe Armstrong's Guitar Rig!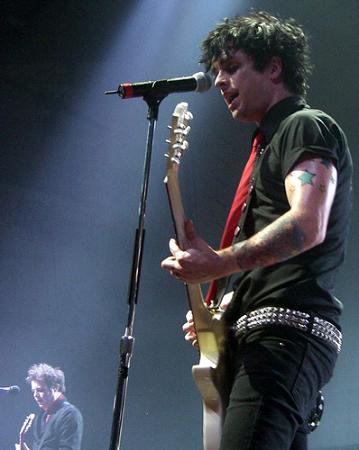 Click the gear images for more info and specs at Guitar Center and Amazon

Guitars
Notes: Billie has a huge collection of guitars, with the majority being Gibson. See Aug 09 Guitar World for pic.
- Gibson Billie Joe Armstrong signature Les Paul Junior single and double cut models:
- Fernandes Stratocaster (Blue)
- Fender Stratocaster

- Fender Stratocaster Custom Shop
- Gibson ES-135 and ES-137 guitars
- Gibson ES-335 and ES-355 guitars

- Gibson Les Paul Special 59'

- Gibson Standard SG

- Gibson Les Paul Junior TV 59'
- Fender Telecaster 68'

- Fender JazzMaster

- Fender Telecaster Custom Shop
- Gibson Les Paul Custom (black)

- Gretsch Chet Akins
- 1956 sunburst Gibson Les Paul Junior (used heavily on 21st Century Breakdown)

- 1952 Fender Esquire  (used heavily on 21st Century Breakdown)

- Gibson Slash Les Paul Custom
- Gibson Jimmy Page Les Paul Custom
- Gibson Flying V (white. Appears to be a Heritage model)

- Gibson DC Junior guitars (yellow)

- Gibson DC Special guitars

- Harmony H59 Rocket Semi-hollow guitar
- Ibanez RG electric guitar
- Fender Jaguar

- Gretsch Brian Setzer Hotrod
- Gretsch Anniversary 65
- Gretsch White Falcon

-  '60s Martin GT-70
- Rickenbacker 330 guitar
- Rickenbacker 360 guitar (black)
- Seymour Duncan pickups (Antiquities P90, SH-4, etc...)


 
Acoustic Guitars
- Guild D55

- Taylor 514C

- Gibson Everly Brothers acoustic (black. Used for recording AND also seen live)
- Gibson Billie Joe Armstrong J-180 signature acoustic guitar

- Alvarez Yairi acoustic
- Gibson J-200 acoustic

Amplifiers and Cabinets
- Marshall Plexi Super Lead 100 WATTS amp head (Dookie and Bradshaw mods)
- Marshall JCM800 amps
- Fender Bassman
- Hiwatt Custom 100 watt amp

- Marshall 1960B 4x12 speaker cabinets

- Victoria Victorilux
- Gibson Les Paul GA-40 amp
- Gibson GA-19RVT Falcon amp
- Divided by 13 amp (used for much of the 21st Century Breakdown recording)
- Sears Silvertone amps (seen in live pics)
- Rivera amp head
- Avalon U5 DI
- handwired Vox AC30 head

- Mojotone
- Custom Audio Electronics 3+ SE guitar tube preamp
Effects
- Dunlop Crybaby Wah pedal (used on 21st Century Breakdown)
- Boss Blues Driver pedal
- Boss TR-2 Tremolo
- Ibanez CF7
- Ibanez TS9 Tube Screamer

- ISP Decimator pedal
- Shure R4D+ wireless
- RJM RG-16 switcher and MasterMind MIDI controller
- MXR Carbon Copy (uses this pedal on "Kill the DJ")
Strings and Picks
- Duplex Tortex .76 - .88mm Custom Picks
- Ernie Ball Super Slinky Strings
- GHS Boomers gauges 10-46 (submitted by user MJ)

Microphones
- Live Vocal mic: Shure SM58

- Shure wireless mics with Telefunken wireless M-80 head
- Studio Vocal mic: Telefunken U 47 M
- Studio Amp cabinet mics:Shure SM57, Royer R-121, and AKG C414 through Neve 1073 (21st Century Breakdown)

Notes:
- Billie's guitar is a Fernandes Stratocaster copy he calls "Blue". On Nimrod he also used some Gibson's, some old Les Pauls, an ES-355, and ES-135 and a Fender Jaguar. He also made a guitar he call's "Frankenstein" because it is a combination of several different parts purchased at a Fender shop. Has a Seymour Duncan humbucker added to Blue.
- Billie mainly plays through a modified Marshall amp. On Nimrod he used a Fender Bassman, a Hiwatt, and a Leslie. The amp he uses on Dookie is most commenly reffered to as the 'pete' amp and can be seen most noticeably at the Woodstock concert, it has 'pete' written across it.