Angus Young is a guitarist and songwriter who has been the lead guitarist of Australian hard rock band AC/DC from it's start in 1973. Young is known for his hard-edge style lead (and his signature vibrato), wild stage energy, and most importantly, that sexy schoolboy clothing. He was ranked 96th on Rolling Stone's list of the 100 Greatest Guitarists of All Time.
In this article we will look at what gear and equipment has been seen in Angus Young's Guitar Rig.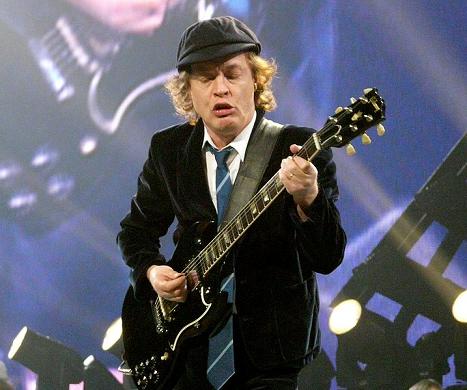 Click the gear images for more info and specs at Guitar Center and Amazon

Guitars
- Angus mainly plays Gibson SG guitars. He has some signature models made by Gibson including the ebony Angus young SG and the Custom SG VOS.

- Jaydee Angus Young SG
- Fender Telecasters

- Gibson Firebird

- Gibson ES-335

- Gibson has Angus Young humbucker pickups. Pop these into your guitar to get similar sound.

Amplifiers and Cabinets
- Young's amps have been plexi Marshalls: JTM45s, JTM50s, JMP50s and Superleads (plus a few Wizard amplifiers). His main amp is a JTM45, which he uses both live and in the studio.
- Marshall 4x12 Cabinets (model 1982 and 1960, mostly B models) with Celestion G12H 30 watt (on old recordings), Vintage 30s (on newer recordings) and G12M 25 watt speakers (on solos/overdubs on newer recordings.

Fun Fact: Angus Young doesn't use any effects. He basically plugs his SG straight into a Marshall amp!
Strings, Picks, and More
- Ernie Ball RPS-9 Slinky Nickel Wound strings
- Fender extra heavy picks
- Schaffer-Vega Diversity System (SVDS)