Dave Navarro has done a lot more than direct adult films. He has been the guitar player in some of the most influential alternative bands like Red Hot Chili Peppers and Jane's Addiction. In this article you'll find out what gear and equipment has been seen in Dave Navarro's Guitar Rig.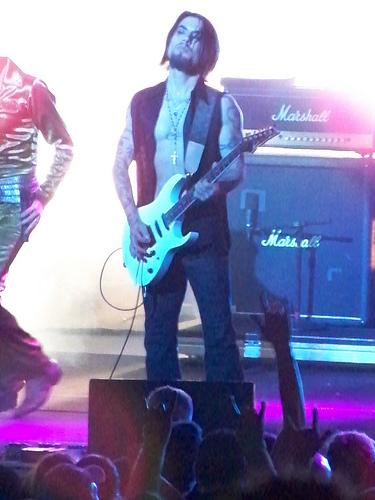 Click the gear images for more info and specs at Guitar Center and Amazon

Guitars
- Paul Reed Smith Dave Navarro Signature guitar
- Epiphone Dave Navarro Signature Acoustic/Electric guitar

- Paul Reed Smith (PRS) standard guitar
- Paul Reed Smith (PRS) custom guitar (Dave Navarro's number one stage guitar)

- Parker Fly Deluxe guitar
- Fender Stratocaster (Dave has several)
- Modulus Stratocaster
- Gibson Les Paul guitars

- Kramer Van Halen Signature guitar
- Fender Telecasters, including Fender Telecaster Plus

- Takamine Acoustic 12 string guitar
- Squire Hello Kitty Stratocaster (given to Dave Navarro by Carmen Electra)
- Yamaha LLX6-DN Dave Navarro Signature Acoustic (White - made for him by Yamaha)
- Martin 6-string acoustic
- White Ibanez electric
- Gretsch White Falcon guitar - he borrowed one from Billy Duffy for "The Great Escape Artist"

Amplifiers and Cabinets
- Marshall JCM800 amplifier (previously used)
- 2 Marshall JCM900 amplifiers (he named them Tanjerine and Peach)
- Marshall 4x12 cabinets

- Marshall Mode 4 (used for large gigs for clean tone)
- Vox AC30
- Bogner Uberschall (in the studio)

- Roland Jazz Chorus JC-120 amplifier
- Overbuilt Amps

Effects
- Ibanez TS-808

- MXR EVH Phase 90
- Boss TU-2 tuner
- Voodoo Lab Pedal Power
- Boss Octave OC-2 pedal

- 2 Boss DD-3 Digital Delays
- Boss Turbo Distortion DS-2 (has been used before for extra volume when soloing)
- Dunlop Crybaby Wah Pedal Hendrix model
- Dunlop Dimebag Crybaby from Hell Wah (listed on Dunlop site, seen in pictures)

- Marshall A/B channel switch
- ebow

- Boss Tuner TU-12H

- Boss PSM-5 power supply
- Boss Super Chorus CH-1
- Boss Super Phaser PH-2
- Boss Tremelo TR-2
Strings
- Dean Markley .009s vintage electric light strings