Yngwie Malmsteen is a Swedish guitarist, composer and bandleader. Yngwie is Widely recognized for his guitar skills, Malmsteen achieved widespread acclaim in the 1980s for his technical proficiency and his pioneering of the shred guitar technique, and neo-classical metal genre.
Let's look at what gear and equipment has been seen in Yngwie Malmsteen's Guitar Rig.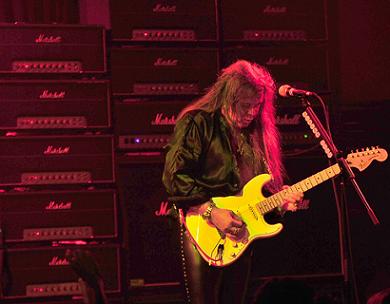 Click the gear images for more info and specs at Guitar Center and Amazon

Guitars
Yngwie Malmsteen prefers vintage Fender Stratocasters from 1968 through 1972. On all his guitars, the tone control is disconnected, and so is the middle pickup. Yngwie only uses the bridge (DiMarzio HS-3) and neck pickups (DiMarzio YJM) on his guitars and allows the low output DiMarzio HS-3 on the bridge pickup to be driven by the floor pedals for his  sound. All of Malmsteen's Stratocasters have brass nuts and are refretted with Dunlop 6000 super jumbo fretwire. According to Fender, Yngwie has one of the most impressive collection of vintage Fender Stratocasters known. He has well over 200 Stratocasters, including one original Fender Stratocaster signed by Leo Fender.

What's the deal with the Scalloped neck? - The guitars he uses are recognizable by the addition of custom scalloped fretboards. This is similar to a regular fretboard, but with wood 'scalloped' or scooped away to form a concave shape in between the frets.

The modifications Yngwie applies to his guitars are:

- Scalloped Fingerboard
- Refret with Dunlop 6000 (Super Jumbo) size fret wire.
- Brass Nut
- Disconnect the tone controls.
- Apply multiple Ferrari stickers.

- Yngwie's most well-known guitar is his 1972 blond Strat, known as "Play Loud" or "The Duck" (because of the stickers on the body). Bought in Sweden when he was a teenager, this guitar has been with Yngwie from the start of his career, and is the one he has used most onstage and in the studio. 
Fender Custom Shop Yngwie Malmsteen Signature Stratocaster:

- Fender Artist Series Yngwie Malmsteen Stratocaster Electric Guitar

- Double neck guitar. Made by Fender of Japan, this specialty guitar features a twelve-string acoustic Malmsteen Signature top, with the Malmsteen Japanese Signature Strat on the bottom. The controls are separate for the two guitars.
Yngwie started using his Seymour Duncan STK-S10 YJM Fury Stack Set Pickups in his guitars around 2011.

- Fretless Fender jazz bass

- Rickenbacker bass guitars
- Gibson Flying V

- Gibson Les Paul Goldtop

- Gibson Les Paul tobacco sunburst

- Gibson SG's

- Ovation Viper Nylon String Electro-Acoustic  (black)
- Ovation C779 Custom Legend LX (used on Angels of Love)
- Schecter made a Schecter Yngwie Malmsteen YM-1 guitar in the 1980's

Amplifiers and Cabinets
- Marshall 1959 Plexi (dubbed "Holy Grail")

- Marshall 1987X Amplifier head
- Marshall 4x12 cabinets (vintage look) (G30 Celestion speakers). Also uses the 1960 cabs

- RHINO YJM50 Black Star Signature Amp Head
- Marshall MG15DFX and MG30DFX (used for practice amps)

 - Marshall YJM100 Yngwie J. Malmsteen Signature valve amp and Cabinets (2011)

Effects and things
- DOD 250 Overdrive/Preamp
- DOD YJM308 Overdrive/Preamp Pedal
- Boss CE-5 Chorus Ensemble
- IBANEZ TS-9 TubeScreamer

- Jim DUNLOP Crybaby Wah
- Korg DL-8000R delay units
- TC Electronics G-Force Multi FX
- Korg DTR-1 tuner
- Furman Power Conditioner RP-8D
- Voodoo Lab Ground Control Pro MIDI pedal board (controls the units in his rack)
- AKG SR4000 Wireless
- Boss CS-3 Compression Sustainer
- Roland DC-10 analog echo pedal
- Roland PK-5 MIDI pedal
- Boss OC-2 Octave

- Boss NS-2 Noise Suppressor
- MXR Dyna Comp
- Boss CH-1 Super Chorus
- Boss PS-5 Super Shifter
- All live microphones are Shure SM57's
- Emu Vintage Keys
- GCX Audio Switcher
- Roland JV-1080 Synthesizer Module
- Dunlop JH-F1 Hendrix Fuzz Face
Strings, straps and picks
- Fender Yngwie Malmsteen Signature Electric Guitar Strings
- Dean Markley Yngwie's Magic strings aka Yngwie's Ball End strings.
- Fender Nickel-Plated Bullets (Super 250's) gauge .008
- DiMarzio YJM ClipLock Guitar Strap (Animal)

- Dunlop 1.5mm guitar picks (white with imprint of his name. Made out of delrin)

- Dimarzio Yngwie Malmsteen Signature Guitar Cable