Brian May is an English musician best known as the lead guitarist and backing vocalist for the English rock band Queen. As a guitarist, he's known for his memorable riffs and solos, distinctive tone, as well as for the fact that he built (with his father) his own guitar, called the "Red Special". He is also cited as a pioneer of the delay effect. An interesting fact is that he also has had a long term interest in astrophysics, having recently completed his doctoral thesis in the subject. He received his PhD in Astrophysics.
Let's look at what gear and equipment has been seen in Brian May's Guitar Rig!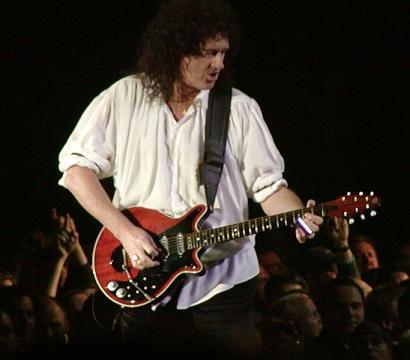 Click the gear images for more info and specs at Guitar Center and Amazon

Guitars and other instruments

- The Red Special guitar (this has been his main guitar)
- Brian May Guitars Brian May Signature Electric Guitar (Brian designed this after the Red Special)

- Gibson Les Paul Deluxe (as a backup during the early tours)

- Gibson Flying V (spare during Hot Space tour)

- Fender Telecaster

- Ibanez JS
- Greco BM90
- Parker Fly
- Ovation 12 string acoustics

- Martin Acoustic guitars
- Gibson Chet Atkins nylon guitar
- Aloha Ukulele
- Yamaha DX7 keyboard
- Guild Brian May guitars (in the 80's and 90's)

Amplifiers
- Vox AC30 amps - Vox made a Custom Classic AC30BM Brian May Signature 30w 2x12 Tube Guitar Combo Amp
- Deacy amp (reproduced by Vox as the "Brian May Special")


Effects
- Boss Chorus Ensemble CE-1 (from the 70's) - now CE-5
- Foxx Foot Phaser
- Wah Wah pedal
- Brian May Treble Booster
- Brian May Digitech Artist Series pedal. - It has all the Queen effects and settings built in
- Sennheiser wireless system
- VCA Control pedal
- Mike Hill custom-made rack-mount loop switcher
- TC Electronic G-Force
- Rocktron Intellifex XL (used for Delay and "weird" noises)
- Hughes & Kettner Tube Rotosphere

- Tape Delay and custom delay units


Interesting Fact: Brian May uses a English Sixpence from the 60's as his guitar pick. He also has custom Brian May Optima strings that are 24 karat gold plated.