Billy Sheehan is a Bassist known for his work with Talas, Steve Vai, David Lee Roth, Mr. Big, and Niacin.

Sheehan has won Guitar Player magazine's "Best Rock Bass Player" readers' poll five times for his "lead bass" playing style. Guitar Player has likened his soloing on the four-string instrument to Eddie Van Halen's on the six-string guitar. Sheehan's repertoire includes the use of chording, two-handed tapping and controlled feedback. However, Sheehan is also noted as a steady "true" bassist, fulfilling the traditional supportive role of the electric bass.
Let's take a look at what gear and equipment has been seen in Billy Sheehan's Bass Guitar Rig.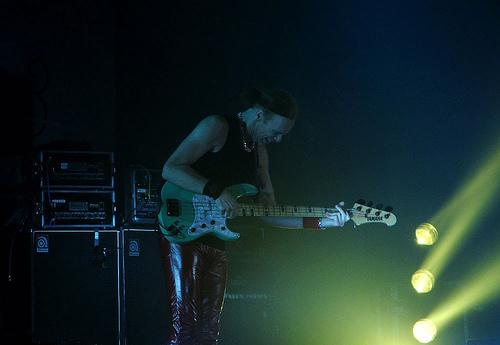 Click the gear images for more info and specs at Guitar Center and Amazon

Basses
- Yamaha Billy Sheehan signature Attitude 4 string bass (with aftermarket blue LEDs and laser pointer)

- Yamaha Billy Sheehan 4-String Electric Bass Guitar

- Hipshot Bass D-tuner
- Taylor 12-string guitar (he "loves" this guitar)
- Yamaha Baritone 12 string guitar
- Yamaha Double-Neck Attitude Bass
- Hagstrom bass (his first bass guitar)
- Fretless Yamaha bass
- Gibson Les Paul TV (Sheehan's first electric guitar)

Amplifiers and cabinets
- Hartke - 2 LH1000's, 2 HA5500's, and AK410 cabs
- Ampeg SVT-4 Pro bass amplifier head

- Ampeg 8x10 bass cabinets (two or four depending on show size)
- Fender Deluxe Reverb guitar amp (One of Sheehan's first guitar amps)


Effects and things
- Ampeg signature SVP-BSP pre-amps
- Pearce BC-1 solid state dual channel pre-amp (no longer made. He uses it for distorted tones)
- Ashley dual channel compressor
- Nady Wireless Receivers
- Korg Rack Tuner
- Furman power strip
- Rocktron Hush noise gate

- Bradshaw effects send router
- Eventide Eclipse

- Emu Vintage Keys (for bass pedal sounds)
- ISP Decimator ProRack

- Line 6 Relay G50 Wireless

- Tech 21 Midi Mouse
- Roland SonicCell
Strings and Picks

- RotoSound BS66 Bass string set



- Billy also plays guitar. When he plays guitar he has been said to use stone picks made from polished stone
- Some white triangle picks where taped to one of Billy's Hartke cabs......