Page 1 of 2
From day one Slash has been one of our favorite guitar players. From Slash's days in Guns N' Roses all the way to Velvet Revolver, he has played kick ass guitar riffs on the hottest Gibson Les Pauls, making the guys jealous and the ladies go crazy. Seeing how Slash has often been regarded one of the best guitar players of all time, we think it's necessary for us to look at what Slash's Guitar Gear and Equipment looks like. Let's look at what gear and equipment has been seen in Slash's guitar rig.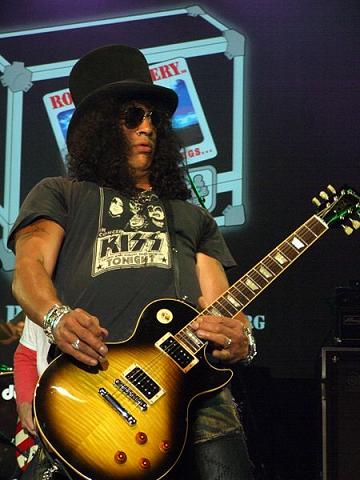 Click the gear images for more info and specs at Guitar Center and Amazon

Guitars
Slash owns more than 250 different guitars. Some of them are the following:

- Gibson Les Paul Slash Custom Shop model
- Gibson 1959 Les Paul replica built by Kris Derrig (some people think that it's a Max Baranet Les Paul replica, but it's not) The recording Holy Grail used on all CD's.
- Gibson 1987 Les Paul Standard with 3 piece top (Factory Second) (Slash's main live guitar with cracked neck in 2 places; repaired)
- Gibson 1958 Les Paul replica built by Kris Derrig
- variety of other Gibson Standard and Custom Les Pauls - Gibson 1957-58-59-60 Les Paul Reissues
- Gibson 2004 Signature (Velvet Revolver)
- Gibson 1963 & 1965 Melody Makers
- Gibson 1960s SG
- Gibson EDS-1275
- Gibson 1959 Flying V
- Gibson 1958 Explorer
- Gibson ES-335
- Gibson Firebird VII
- Gibson 2007 Classic Custom
- Gibson J-100
- Fender Squier (Hello Kitty)
- Fender 1952 Telecaster
- Fender 1956 Stratocaster
- Fender 1965 Stratocaster
- Fender 2006 JazzMaster
- Ernie Ball/Musicman Silhouette
- Guild 1999 Crossroads Doubleneck ("Godzilla")
- Guild 12-string Acoustic Guitar
- B.C. Rich Mockingbird (at least three signature models with active pick-up systems)
- B.C. Rich 10-string Rich Bich
- B.C. Rich Warlock
- Martin D-28 Acoustic Guitar
- Ramirez Classical guitar
- Travis Bean Electric (Used for slide guitar)
- First Act 2006 GarageMaster (Used in Volkswagen commercial)

Guitars used by Slash in studio for the recording of Libertad :

- 1959 Gibson Les Paul replica built by Chris Derrig
- 1960 Gibson Les Paul reissue
- Gibson Les Paul Slash Custom Shop model
- Gibson Les Paul junior
- Gretsch 6120 Brian Setzer model
- Rickenbacker 12-string
- Fender Stratocaster
Click the next button below to see more of Slash's guitar gear