Jack White is a musician, guitarist, singer, songwriter and music producer. White is best known as the guitarist and lead vocalist of the rock duo The White Stripes. Jack has also had a great solo career and founded Third Man Records. If you like Jack White and The White Stripes and want to know what Jack White's Guitar Gear rig and Equipment look like, then this is the article for you. Let's look at what gear and equipment has been seen in Jack's guitar rig.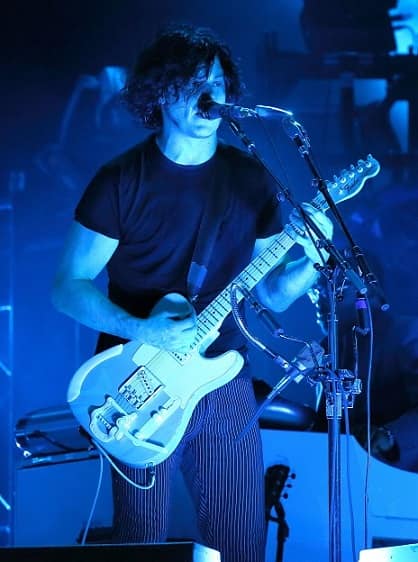 Click the gear images for more info and specs at Guitar Center and Amazon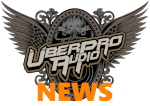 Many have been asking - What Eddie Van Halen guitar did Jack White use on his Saturday Night Live appearance in October 2020?
Answer: Jack used one of his custom EVH Woflgang model guitars. The guitar is blue and has black block inlays along with 3 pickups. On his Instagram post the day of the SNL show, Jack said that this EVH guitar "was designed by Eddie (with a few customizations I had added). Eddie was very kind to me and saw to it that this guitar was made for me to my specs." You can see Jack playing this EVH guitar here, along with a Fender Twin Reverb amp on SNL:
Jack actually has played a variety of the EVH Wolfgang guitar models, including the EVH Wolfgang USA Signature model guitar. Jack was on guitar world with his blue EVH guitar and there's a nice Jack White writeup on the EVH site that talks about Jack's use of the EVH guitars.

Jack White's Guitars
- Gibson Jeff "Skunk" Baxter Fort Knox Firebird (maple neck)
- Fender Telecaster (blue with Bigsby)
- 2 1964 JB Hutto Montgomery Airlines guitars
- Harmony Rocket guitar
- 1970s-era Crestwood Astral II guitar
- 1950s-era Kay Hollowbody guitar
- Gretsch White Penguin guitar

- Gretsch Triple Jet guitar (below is a double jet):

- Gretsch Anniversary Jr. w/ Bigsby with three Filtertron pickups
-  Gretsch G6199 Billy-Bo Jupiter Thunderbird Electric Guitar
- Custom Gretsch Rancher Acoustic Guitar Western Maple Satin
- Black Gibson F-4 mandolin (below is an F-5)

- Gibson Hummingbird Acoustic

- 1968 Telecaster with Bigsby
- Gibson Fort Knox Les Paul (given to him for a Grammy event) and Gibson Fort Knox Flying V electric guitars
- Ernie Ball Music Man St. Vincent signature model electric, turquoise color, that has blue aluminum Lace Sensor pickups
Jack White's Amplifiers and Cabinets
- 1970's Fender Twin Reverb amp

- Two 100-Watt Sears Silvertone 6x10 combos
- Fender Vibroverb 15 guitar amplifier
- EVH 5150 III amp. Jack tried this amp out for a bit, but sounded like he didn't use it too much.



Jack White's Effects
Notes: Jack's guitar effects pedals have been professionally painted
- Digitech Whammy IV

- MXR Micro-Amp
- Electro-Harmonix Big Muff Pi Distortion/Sustainer American
- Electro-Harmonix Polyphonic Octave Generator (POG)
- Boss CS-3 comprssion/Sustainer
- Boss TU2 tuner
- Dunlop Rotovibe
- Voodoo Lab Tremolo pedal
- Z.Vex Woolly Mammoth pedal (used one for the quantum of solace theme song, and also live)
- Either an Electro-Harmonix Holy Grail Nano or a Bassballs pedal (both look the same painted...)
- Demeter tremolo
- EHX Bassballs
Jack White shared a great picture of his 2020 guitar rig gear, which was used at the SNL show - observe the pedalboard which includes many of the pedals listed here along with his beautiful EVH custom Wolfgang guitar:
 https://www.instagram.com/p/CGGxnDFJCPT/
Jack has some really cool looking guitar effects pedals coming out of Third Man Records. Those Third Man Records guitar pedals include:
- Third Man Triplegraph guitar effects pedals by CopperSound Pedals
- Third Man Records Plasma Coil effects pedals
- Third Man Exclusive Black Flex Pedal by Mantic Pedals
- Bumble Buzz Bumble Buzz Guitar Effects Pedal, made by Chris Young of Union Tube & Transistor. Chris built the pedal used for White's guitar sounds on "Sixteen Saltines" and the vocals on "I'm Shakin'" on Blunderbuss album.
- Septavox synthesizer (41 keys, tons of sounds)
- Terz Amplifier (portable guitar amp)
Here's a cool as heck video of Jack playing on and demoing the Third Man Records guitar effects pedals - he's using a Gretsch Billy-Bo guitar in the demo:
Jack White's Strings and Guitar Picks

- GHS Nickel Rockers Guitar Strings
- Dunlop Tortex custom printed picks (we've seen some of these for sale - they have custom printing and say Tortex in small lettering)
https://www.instagram.com/p/B5_yj83Jg1p/