Adrian Smith is one of the guitar players in Iron Maiden. But we didn't have to tell you that. I've experienced the electrifying show that Adrian Smith and Iron Maiden puts on and let me tell you - if you haven't seen Iron Maiden live, add that on your to-do list. Being one of the guitar gods, Adrian Smith's Guitar Gear and Equipment of course is something a mere mortal like yourself could only dream of having...or is it? Let's see what guitar gear and equipment Adrian has been seen using in his guitar rig....."Your time will come..."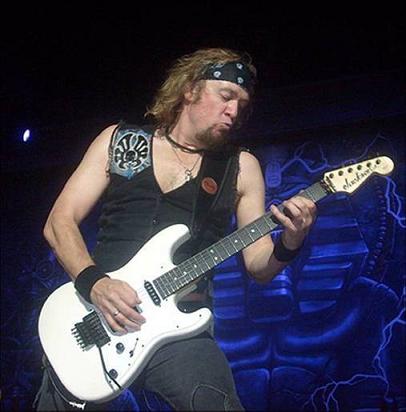 Click the gear images for more info and specs at Guitar Center and Amazon

Guitars

Notes: Smith's preferred guitar is the Fender Stratocaster, though he has used a variety of others over his career including several different Dean models, a custom built Jackson, Ibanez Destroyer, Gibson Les Pauls, a Gibson Explorer and Gibson SGs. On the A Matter of Life and Death DVD he says the first guitar he bought was a Gibson Les Paul Goldtop that cost him £235 when he was 17; he's still using it, and "it's still probably the best guitar I've got". He had to work on a building site all summer to pay for it.  Adrian uses gauge 9 strings and has his action set slightly higher than average.  For his solo work with Bruce Dickinson and with Maiden on occasion, he has used (at least live) a Jackson King V guitar tuned down to D, providing a darker and heavier sound. In the booklet of their album A Matter of Life and Death, Adrian is shown with a custom made two neck Jackson Soloist.
- Jackson Adrian Smith San Dimas Dinky and SDX (lower cost version) guitars
- Ibanez Destroyer
- A 1970's Gibson Les Paul Goldtop (DiMarzio Super Distortion bridge pickup and mini-humbucker from a Gibson Firebird)

- A Fender American Stratocaster with a Floyd Rose tremolo system with a backup Fender.

- An early 70's Gibson SG with a backup Gibson.

- Custom jackson strat ("gold top")
Specifications

For the Fender American Stratocaster:

- Ernie Ball Strings (.009, - .046)
- Tuning: Standard (low to high: E A D G B E)
- SRV Texas Special Pickups (neck and middle)

- DiMarzio Super Distortion (bridge)



For the Gibson SG:

- Ernie Ball Strings (.009, - .046)
- Tuning: Drop-D (low to high: D A D G B E)
- Stock Pickups
Amplifiers
- Marshall DSL100 amplifier
- Two 300-Watt Marshall 1960A Angled-Front 4x12 Cabs and 1960B cabs
- Loaded with 75-Watt Celestion G12-T75 Speakers

- Two Marshall 30th Anniversary 6100LM 100-Watt All-Tube Heads  (not made anymore)
- Randall Isolation cabs (miced with Shure sm57)
Effects, controllers and processors
- Dunlop Uni-Vibe Wah Controller

- Yamaha MFC10 Midi Foot Controller

- Digitech Whammy Pedal

- two Ibanez TS808 Tube Screamers (in his 2010 rig)

- Ibanez TS9 Tube Screamer

- Mike Hill B.I.S. Isolation Box
- ADA MP-1 Midi Preamp
- DBX 160X Compressor

- Marshall 9200 Dual MonoBlock Power Amp
- Marshall JMP-1 Midi Preamp
- TC Electronic 2290 Dynamic Digital Delay
- Korg A-4 Midi Footswitch
- Lexicon MX200 (controlled by Yamaha MFC10)
- old Yamaha Flanger

Units and tuners
- Shure U4 Wireless Receiver

- Whirlwind Multi-Selector 4-Channel Selector

- Dunlop DCR-1SR Rack Wah
- Peavey Tubefex Tube Preamp & Multi-Fx Unit