Victor Wooten redefines the word musician. Regaled as one of the most influential bassists since Jaco Pastorius, Victor is known for his solo recordings and tours, and as a member of the Grammy-winning supergroup, Béla Fleck & The Flecktones. He is an innovator on the bass guitar, as well as a talented composer, arranger, producer, vocalist, and multi-instrumentalist. I remember my first Wooten concert - I was so close I was touching the stage. It was an incredible show and ever since then I've been hooked. Not only is Victor the best bass player around, he has some awesome bass gear. His Fedora gear is mouth watering. Let's take a look at what gear and equipment has been seen in Victor Wooten's Bass Rig.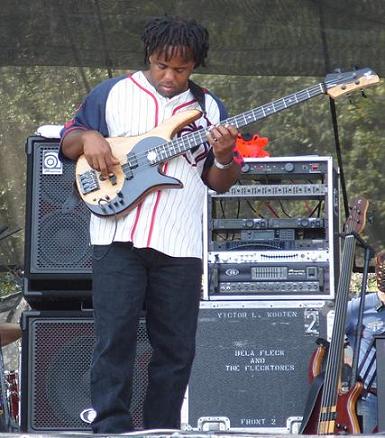 Click the gear images for more info and specs at Guitar Center and Amazon

Basses
Victor Wooten's main bass is this 1983 Fodera Monarch Deluxe. It's made of curly and rock maple, Honduras mahogany, and East Indian rosewood. The pick-ups are EMG's and I've added a Kahler tremelo.
Wooten's Fodera Monarch Tenor Bass is tuned A-D-G-C.
Wooten's Yin-Yang basses are also made by Fodera Guitars. He has fretted and fretless 4-strings which are tuned E-A-D-G and a fretted 5-string which he usually tunes E-A-D-G-C. The 5-string also has a Yamaha MIDI converter with a breath controller attached to it.
Online there is a rare picture of Victor Wooten playing a Steinberger bass.
Victor has a 5-string fretless, that was made by Joe Compito. It has a Mahogany body with a Purpleheart top. Joe also made a fretted 6 string for Victor.
Victor also has a few other basses. He has a Fodera 6-string Monarch, a NYC 4-string, Kubicki Factor, Keith Roscoe 5-String, an Alembic Series 1 (his first 'good' bass), Ken Lawrence nylon-string tenor, a Nechville "Banjo Bass', and a couple of upright acoustic basses.
Amplifiers and Cabinets
- In 2009 Victor began using/endorsing Hartke amps and cabs. Up until this point, he mainly used Ampeg
- Hartke LH1000 amplifier head
- two Hartke Hydrive 410 cabinets
- two Hartke Hydrive 115 cabinets

- Ampeg Bass Amplifier Heads

- Ampeg BXT-410HL and BXT-115HL Cabinets
Note: It appears these cabs aren't being made anymore.  The svt cab is pictured here.

Effects and other Music Equipment
- Roland Sound Canvas (Used to play sustained notes and chords on tunes like "Stomping Grounds" and his solo spot in the show)
- Furman Power Conditioner
- Shure in-ear monitors
- BOSS GT-6B Multi-Effects pedal

- EBS Envelope Filter

- MidiMix controller
- Lexicon Jamman (uses a Lexicon pedal to control the Jamman. The lexicon is the older brother to the digitech, which is pictured below)

- BOSS RC-20XL
- Source Audio Soundblox Pro Multiwave Bass Distortion
- Rodenburg Boost Pedal
- Peterson StroboStomp Tuner pedal
Strings
- Fodera Victor Wooten Signature Strings
- D'Addario XL-220 bass guitar strings