Up and coming blues rock sensation Jared James Nichols is a young gun who has us really excited. The Wisconsin-born, Los Angeles-based singer, writer and guitarist's new EP Old Glory & The Wild Revival channels blues grit and gusto through bombastic arena-size rock 'n' roll. It's raw, raucous and righteously real and was recorded with engineer Warren Huart (Aerosmith). UberProAudio talked to Jared about the new album, his guitar gear, and more!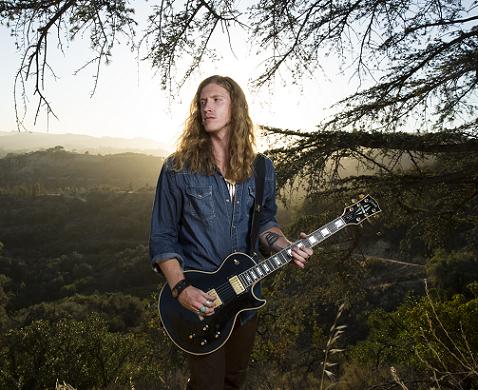 UberProAudio: Tell us about your new EP album "OLD GLORY & THE WILD REVIVAL" (July 2013).  How would you describe your debut studio release to a potential new listener?
Jared: The new EP is a very honest, raw representation of who I am as an artist. It shows my love for the blues, along with late 60's and 70's rock. But most importantly, it showcases a fresh and energetic sound. The songs are real and the playing is real. Throughout this recording I am able to expose all of my feelings, organically.
UberProAudio: For this first studio release, were the song ideas kicking around in your head for a long time prior, or did you write the tracks more recently?
Jared: All of the tracks on the new recording are very recent, with the exception of Blackfoot. I had written it a little over a year ago, as it was on of my favorite songs to play live, so naturally I wanted to include that on the release.
Along with being the producer of the EP, Warren Huart was also my songwriting partner on the other 4 tracks. A couple weeks before the recording we got together and wrote for a few days. I would bring in ideas and we would just jam them out, experiment, and form the songs very organically. For the track "Can You Feel It?" Warren was messing around with the main riff and that song basically wrote itself in a matter of minutes. We also did a lot of experimenting and took our time on "Let You Go" until if felt and sounded right.



UberProAudio: What was it like working with Warren Huart (Aerosmith, The Fray) in the studio?

Jared: It was an amazing experience to work with Warren Huart in the studio. Aside from being a stellar producer, he is a great guitar player. Plus, we have some of the same heroes, Paul Kossoff, Jeff Beck, and Hendrix. In the studio, we were always on the same page. We approached the recording with a like-minded goal, focusing on feel and soul before technical perfections. Most of the parts were captured within one or two takes. If it felt good, we used it.
UberProAudio: What's the history behind your custom Landric V guitar?

Jared: I always loved the look of the old Gibson Flying V's and Albert King was a huge influence on my playing, I loved his tone. Trying to get a similar guitar is not cheap though. In fact, the originals are one of the rarest Gibson models in the world, even a good copy is at least 5k! So, I approached Rick Land of Landric Guitars, a custom guitar builder out of Grafton, Wisconsin with the idea to create one. We spent a few months getting all of the pieces together and getting it sounding right. It has been one of my main guitars for a few years now. I love the tone it has, and it has been a key influence on shaping my overall guitar sound.


UberProAudio: Tell us about the other guitar gear in your rig (Guitars /Pickups/Amps /Effects /Strings /Picks).

Jared: I try and keep my rig very basic. I only use a few tools in shaping my tone. I find with less gear, I am able to dig in more and wrestle with my guitar, squeezing all of the soul out of it. Besides the Flying V, I have an amazing vintage Les Paul.  Ever since I started, I used vintage style, Seymour Duncan pickups in all of my guitars. They make the best pickups I've ever heard. I've also used heavy D'addario strings forever. I've always really liked to bend the strings and hit them hard. Honestly, I can count on one hand how many times I've broken a string in the past 5 years. When I found D'addario's, I never tried anything else.  I don't use guitar picks. I'm all about the pure sound of fingers and strings. It's much more personal and unique as well.
The Blackstar 50 watt Series One amplifier has been a staple of my sound since I first started my band. It sounds to me as if they took the massive tones out of a cranked vintage plexi and paired it with a great Fender clean. Personally, I would put that amp against anything, and it's built to handle my abuse! Along with Blackstars, I use T-Rex Effects and a handful of other vintage style pedals.
UberProAudio: What guitar gear do you take out on the road with you?

Jared: For guitars, I always take my trusty Flying V and vintage Les Paul out on the road. They are great, reliable, and can stand up to the abuse night after night.
I have a very small pedal board which consists of my essentials. Basically, the same stuff I've been using since I started. A Korg tuner pedal, T-Rex Effects Yellow Drive, Chicago Iron Tychobrahe Octavia, an Xotic Effects EP Booster, and a Fulltone Deja-Vibe. These pedals give me more than enough options to shape my tone. [also uses PedalTrain board]





For amplifiers, I always use Blackstar 50 watt heads with a 4x12 bottom. When playing clubs, I run a single amp on stage left. For bigger stages like festivals and amphitheaters, I will run a pair of these amps in stereo, one on each side of the stage. It makes the guitars sound huge!



UberProAudio: Does your live guitar rig mirror your studio rig or did you use some different goodies in the studio for the new record?

Jared: Honestly, I use the same gear in the studio as I do when playing live, there are no smoke or mirrors here. When you listen to the EP, you can guarantee that when you come see a live show it's gonna have the same sound. We definitely "go for it" when playing live though, a little more raw and intense.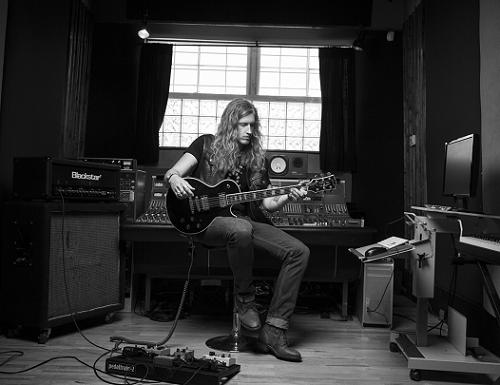 UberProAudio: Which pieces of guitar gear in your collection do you prize the most?
Jared: That would definitely be my vintage Gibson Les Paul Custom. It's a great old guitar. I was told by the head luthiers at Guitar Center Hollywood that the body and neck date back to 1958ish and all of the hardware is from a 1968 Les Paul Custom. What a tone it has! I knew from the moment I plugged it in, that it's a special guitar. Her name is "Old Glory" and she had a heavy influence on naming the EP as well.


UberProAudio: Do you have any new gear on your wish list?
Jared: I love vintage gear! I'm always looking at 50's Les Paul Jr's or Melody Makers. They have a great funky tone and vibe. Otherwise a vintage Sunn amplifier like Leslie West used, or a cool old Vox wah-wah.


UberProAudio: How do you like your guitars setup? Low/Medium/high action…
Jared: I like to fight with the guitar a bit. I prefer "baseball bat" guitar necks and pretty high action. I use heavy D'addario strings as well, I love going for giant, larger than life, singing guitar tone.


UberProAudio: What's next for Jared James Nichols?
Jared: Tour, tour, tour! I want to play my music for as many people as possible. It's very important to me to be out on the road, sharing this great art form of the blues and blues/rock. Having said that, I am already starting to write for an upcoming full length record for the near future!


For more info on Jared, check out http://www.facebook.com/Jaredjamesnichols