Rival Sons are a raucous, maximum-blues-infused, hard rock band, which explode with the rhythm and roughness of some of the greatest rock acts of all time. These guys have played shows with some of rocks greatest acts, like - AC/DC, Alice Cooper, Kid Rock and more. They also recently were awarded "Breakthrough Artist" at this years Classic Rock Awards show. UberProAudio had the chance to chat with guitarist Scott Holiday about the bands upcoming new album "Head Down" and all of his guitar gear!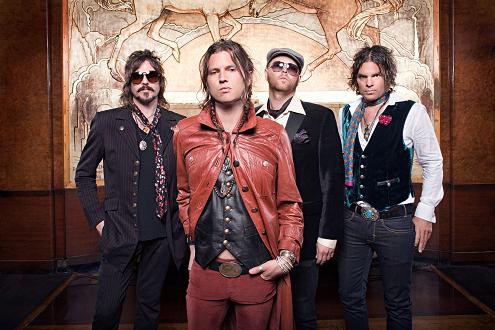 UberProAudio: Tell us about the new Rival Sons album "Head Down" (Fall 2012).  How would you describe this record to a potential new listener?

Scott: It's a natural progression for the band. A more expansive record than our previous...explores some new musical/melodic territory, as well as embraces, or reflects our live show more - which is very natural, after touring pretty much nonstop since Pressure & Time was released. Stylistically, it's a rock n roll record...crammed with tons of our influences - sonically and writing-wise. Containing elements of the blues, soul, garage, beat, pop, folk, spaghetti-western surf music and full on freak outs.



UberProAudio: How would you compare the new album to the band's earlier records?

Scott: We spread out much more on this record. Longer songs... More exploratory, musically. Since we've toured nonstop since the last record, there's a much more live band element here too. P&T was VERY concise and -at least on my own part- showed a TON of restraint. Head Down is starting to return us to our more ambitious side... Crackin the whip a little harder, per-say.



UberProAudio: It looks like you have a lot of Orange Amp gear, a healthy sized pedalboard, and more goodies. What gear (Guitars/Amps/Effects/Strings/Picks) are you using in your live guitar rig?

Scott: My live guitars...

My blue Gibson Firebird VII, a '62 Fender Jazzmaster, '65 nonreverse Gibson Firebird, and I just got a terrific custom Firebird (reverse style) built by Kauer guitars- a goldtop with custom pinstriping- one o a kind! Very 'Billy Gibbons-ish".

My current live amps are Orange OR50's...I use 1 for cleaner stuff and switch to another for dirtier stuff. Run em both into 1 2X12 and 1 4X12.



Robots?

I just built a 2 section live board. Some of the goodies include: the Basic Audio Gnarly Fuzz, ZVez Fuzz Probe, Analog Man KOTv4, Keeley Time Machine Boost, KR MegaVibe, Dunlop CAE wah, Way Huge Ring Mod, a Keeley modded [Line 6] DL4, Demeter Tremulator, Strymon Flint, Way Huge Aqua Puss, reboxed old Roger Mayer octavia, Option 5 Destination Rotation, a micro POG and some Dunlop volume and expression pedals. Like a box of Crayolas. Sounds like a lot...but only a couple things are run at a time. We play long headline sets throughout Europe...sometimes up to 1hr 45min-2hrs. These tones help me cover all the stuff I do over our 4 records.
[A few of these pedals pictured below - UPA]







UberProAudio: Did your studio rig for the new album differ at all from your live rig? If so, what different gear was used in the studio?

Scott: Absolutely. I didn't use my Oranges in the studio. My main amps were an old Supro with a little 6" speaker..a tiny tone machine, a Silvertone 1484, and an original VOX Berkeley...amongst some other Fender tweed and blackface amps here and there. I used all my live guitars on the record...but also used a fantastic '60 335, a '54 goldtop conversion Les Paul, a mid 60's Harmony Rocket, and a Gretsch White Penguin. Used all my robots...and a bunch of my producers goodies too...like his original VOX Tonebender, original VOX Wah, old Super Fuzz, a Boss DM2, Analogman Peppermint Fuzz, probably a few things I'm leaving out.



UberProAudio: Which pieces of guitar gear in your rig do you prize the most?

Scott: I would use the word "prize" only with my guitars. In a pinch, I would mostly need/want either my Gnarly fuzz, TMB, or Octavia, and the DL4. A little slap and fuzz can go a long way ;)



UberProAudio: Do you have any new gear on your wish list?

Scott: Always! Getting another Kauer Firebird built right now...always looking at a couple new fuzzes to play with...maybe some synthier type pedals too. Technically, my rig is very dialed in though. I'll definitely find a few new sounds to use on the next record though. Would love to get an original Roland Space Echo..and another little Supro amp or another Silvertone. Also in the market for a National Resonator.

See? It's an endless addiction...they call it G.A.S. - gear acquisition syndrome ;)



UberProAudio: You guys have a HOT new album and just finished a European tour…what should fans be keeping an eye out for next? Is a USA tour on the horizon?

Scott: We already wanna make the next record! Not sure we'll have the time though. We're about to release our 2nd single in Europe...with a really cool video...look for that. Yes- a US tour is on the books. Record drops in Jan. here, so we'll put a tour together following that.  As well as getting out to Canada pretty hard and back out thru Europe. We just had a song on Sons of Anarchy a couple nights ago and we'll have a bunch more in movies and commercials this year...that's become a bona fide outlet these days. At one point that was taboo... Now it's actually beyond acceptable, but a viable source of exposure and coolness.

A possible live DVD/Blu-ray is on the horizon, as well as some cool collaborations and tribute record things.

We're gonna stay real busy.



Make sure to checkout out Rival Sons at http://www.facebook.com/rivalsons