Nick Miller, guitarist from the band A Skylit Drive, took time out of his very busy schedule to chat with UberProAudio. We discuss A Skylit Drive's brand new album "Identity On Fire", the juicy details of what guitar gear Nick uses in his guitar rig, and more!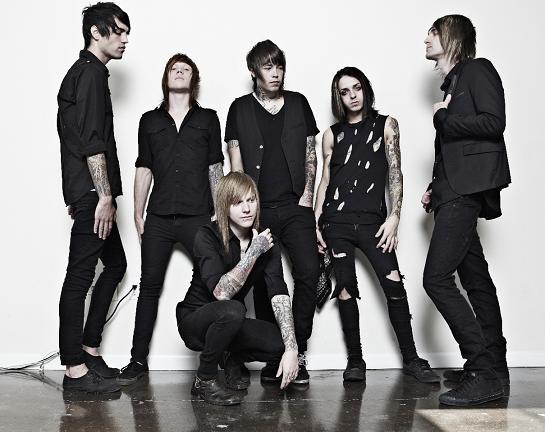 UberProAudio: Thanks for taking time out of your very busy schedule to speak with us. We'll make it short and sweet!

Nick: Thanks for the interview!



UberProAudio: Tell us about the new album "Identity On Fire" (2/15/11 Release date). How would you compare this record to the bands previous efforts?

Nick: I feel like we've really found our sound on this album. We had a few months to fully dedicate ourselves to it which made all the difference. Working with Cameron Webb had a huge impact on the album. We have never worked with a hands on producer and to work with one of his caliber was a great experience for the band. As a result I think the album just turned out to have so much more energy, more elements brought to our sound, and just a lot more fun that anything previous to Identity on Fire.



UberProAudio: You guys spent "a summer of 10-hour days writing new material in a blistering warehouse". How did a typical writing session in the warehouse go for this album?

Nick: The heat was brutal but having a warehouse to do whatever the hell we wanted couldn't have been better for us. Writing sessions would start out in the morning and I would usually bring an idea to work on and it would develop from there with everyone's input. Once the day was over it would sometimes turn into a rad place to hang out and do what we do.



UberProAudio: What is the process the band generally goes through when writing a new song?

Nick: Usually I will bring a very simple structured song idea or just maybe have a chorus or riff. The entire band will be together and then give their input. We are all really good friends so no one will be left out and the process makes our band unique because everyone will use their ideas and we somehow put it all together to create the song. Every member of the band plays an important role in writing.



UberProAudio: The band teamed with producer/mixer Cameron Webb (30 Seconds To Mars, Motorhead, Flyleaf, Silverstein) for Identity On Fire. What was it like working with Cameron? What did Cameron bring to the table for this album?

Nick: Cameron Webb became the 7th member of A Skylit Drive. He really taught us so much and guided us in the right way. He would always give his input and have us work it out. It was great to have someone that put that much effort and cared as much as we did. He's the homie and we are very grateful to have had that opportunity.



UberProAudio: Tell us all about your guitar rig. What gear/equipment do you use in your live rig (guitars, amps, effects, strings, etc…)?

Nick: I use ESP guitars [editors note: ESP LTD Viper 400], have a Fender EVH 5150 head through a Mesa jumbo cab, I use a Line 6 Delay pedal, Ernie Ball Super Slinky strings. All are great reliable equipment on the road.





UberProAudio: Do you foresee any changes you want to make in the rig for the 2011 Warped Tour?

Nick: Honestly not at all. All are great endorsements and great people behind it. They keep me playing and on the road. Very great for these companies.



UberProAudio: Do you have any pieces of gear that you feel really define your sound (i.e. you couldn't live without)?

Nick: Pretty much all of it for my live sound. I've really gotten to know my gear over the years and have figured out exactly what I want it all to sound like. I would always try to get other guitarists' equipment to sound like them and I would always just end up sounding like myself again. I feel this combination of equipment is the perfect set up for me and its cool I'm lucky enough to have them as endorsements.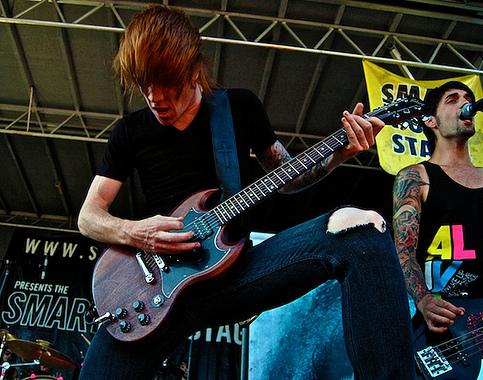 UberProAudio: Did your studio rig mirror your live rig or did you use some different equipment for this album?

Nick: The Studio is always a different ball game because everything sounds so different. I still used my live setup but also added some effects and combinations of amps at the same time which is something I've never done. I thought that was really cool.



UberProAudio: How are guitar duties split up in the band? Does this affect your gear choices at all?

Nick:  We play a pretty equal amount of leads and rhythms. Our gear is different but we like the sound we get out of it. Our sounds compliment each other live.



UberProAudio: A Skylit Drive has the new album and a spot on the 2011 Warped Tour. Any other action/excitement/news that our readers should be looking out for from the band?

Nick: That's about it for now but its great news for us! We are currently doing a tour with Underoath, Tthursday, and Animals as Leaders which has been insane. I also just really wanting to say thank you to everyone that has pre-ordered our album and we can't wait to see you at a show!




Make sure to checkout A Skylit Drive at www.myspace.com/askylitdrive