We spoke with Ryan Neff, Bass player and Vox for the Ohio based metalcore band Miss May I. The new Miss May I album "Monument" was discussed, in addition to touring, the Saw 6 soundtrack, and the band members bass and guitar rigs!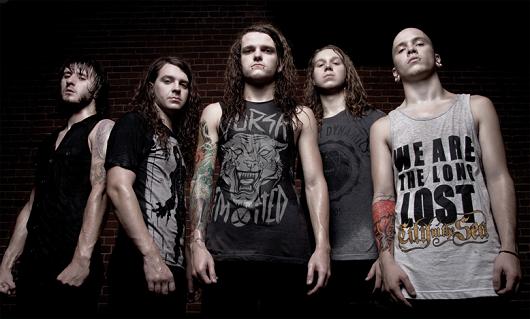 UberProAudio: Thanks for talking with UberProAudio. Tell us about the new Miss May I album, "Monument".  What can fans and new listeners expect?

Ryan Neff: The new album is a blend of all of our fans favorite aspects from our first album "Apologies Are For The Weak", with an added metalcore feel. We wanted to try and push our band more towards a sound that reflects all of the great metalcore bands we grew up listening to.



UberProAudio: How would you compare the process of recording this album to the last one? Was the songwriting / recording process any different when creating the "Apologies Are for the Weak" album?

Ryan: This album was much more relaxed as none of the members were in school. We were able to live at the studio with Joey and be comfortable and work on a solid schedule and have a lot of fun in the process. All of the songs besides 2 had strong structures when we entered the studio this time as well, so there was more song tweaking than song writing which helped us create a better album in the end.



UberProAudio: You guys worked with producer Joey Sturgis who has produced many great bands. How was it working with him on Monument? What does Joey bring to the table?

Ryan: Joey is a great producer. He is able to bring ideas out that you never would have embraced on your own, and is always honest and quick to let us know if a part of a song or piece we are writing does not mesh well or flow with the song. He also was very influential on all the singing melodies as it was my first time performing on an album and in the studio - so his experience and skill helped push me to perform the songs to the best of my ability, and take any ideas I had and expand them and make them much better than they were originally.



UberProAudio: Tell us all about your guitar and bass rigs. What gear are you guys using? (guitars, amps, pedals, etc…)

Ryan: Bj and Justin are currently running Peavey 6505 Plus guitar heads, into Mesa 4x12 Cabinets. Pedal assortment for both is expanding because of the new album, but a few key pieces to the puzzle for us are going to be Digitech Whammy pedals, Ibanez Tube Screamers, and Boss EQ pedals. Both of them also play Schecter guitars.




For the bass rig, I use a Fender Bassman 300 head, Fender 8x10 pro cabinet, Sansamp Deluxe, and a Boss ODB-3 distortion pedal. The bass I play is a Fender Marcus Miller Jazz Bass.





UberProAudio: What gear did you use in the studio for Monument? Was it the same rig that you tour live with or did you use some different gear?

Ryan: Our producer, Joey Sturgis, handles all of that in the studio. We just leave it up to him. He is 100% in-the-box, which means, there's not a whole lot of out board gear being used during the recording process. But a quick run down; we used our Truth Drum set with a mix of in-studio cymbals and our own cymbals, Fender Jazz Bass, and our Schecter guitars with EMG Pickups.



UberProAudio: A lot of our readers seek a good metal guitar sound out of their own rigs. Can you offer them any expert advice on achieving great tone for this style of music?

Ryan: The biggest thing for us that we have learned over the last year is clarity. We were a very "gain is the answer to everything" type of band there for a while, and with the introduction of our own personal sound engineer for tour we have slowly learned the secret to clarity rather than creating as heavy of a tone as possible and creating a mushy sound.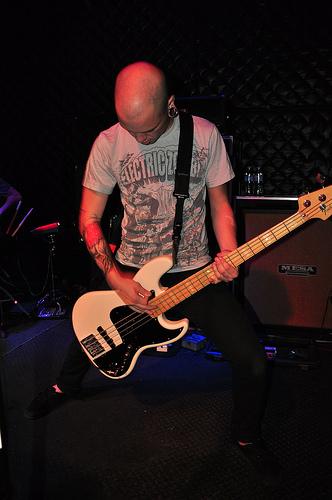 UberProAudio: Miss May I had a track in the Saw 6 movie last year. As self professed horror film fans, what was it like to hear your music in a major motion picture?

Ryan: Just like every other new experience this year, the Saw 6 soundtrack was another surreal moment that was very exciting for us. We all made trips to see the movie just for the excitement of the closing credits.



UberProAudio: If you could choose any other horror film (past or present) to have a Miss May I track in, which would it be?

Ryan: At this point in our career - we would be honored to take part in any horror film that wanted us to be a part of their sound track.



UberProAudio: How did the recent tour with The Devil Wears Prada go?

Ryan: The Back To The Roots tour with TDWP was our most successful tour to date. It helped us push our new album "Monument" to a high charting position on the Billboard top 200 and really helped broaden our fan base and put us in a great position for all the tours we have coming the rest of 2010.



UberProAudio: Miss May I is on tour for the rest of the year (including some shows with Whitechapel), and has toured many months of the past year. What are your favorite / least favorite aspects of touring?

Ryan: We are a very pro-tour band. We really enjoy being on tour, meeting fans, and of course playing great shows. The only thing that really bugs us any longer on tour is extensive tours that keep us away from family, girlfriends, and home life in general. Tour is great but 2 1/2 months living out of a van and hotel rooms can really start to wear on you. That was the case this summer on the TDWP tour for us. Every show was amazing but the last week really dragged for us and everyone was pretty irritable because of how excited we were to finally get to head home and see everyone.



UberProAudio: What does the future hold for Miss May I?

Ryan: Hopefully we can continue to grow and write music that makes our fans happy and gives them a release from the every day grind, and they can come to a show, head bang, and stage dive and just have an awesome time. Metal is all about fun and escape for us and we just want to continue making that a possibility for all of our awesome fans.


Make sure to checkout Miss May I at http://www.myspace.com/missmayi