On the eve of Before Their Eyes newest release, "Untouchable" (2010), we had a chance to talk with Elliott Gruenberg, one of the bands guitar players. The band, hailing from Findlay Ohio, has been very busy touring, with two new upcoming tours to support the Untouchable album; one in the USA, and their first ever tour in Canada. We discuss touring, the new album, tone, and of course guitar gear with Elliott who is quite the gear enthusiast!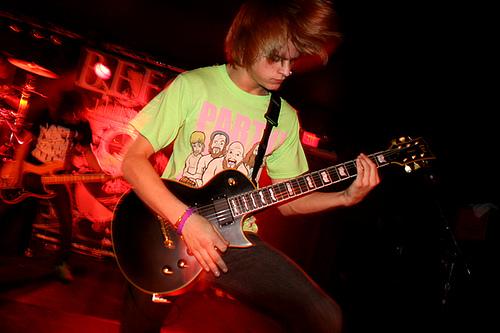 UberProAudio: Hi Elliott. Thanks for taking the time to talk to UberProAudio. So your band Before Their Eyes, recently was on a spring tour with Silverstein, Norma Jean, and Bless The Fall, and then on a summer tour with Drop Dead Gorgeous, He Is Legend, Watchout There's Ghosts, and Eyes Set To Kill. How did the tours go? 

Elliott Gruenberg: Hey, Thanks a ton for allowing me to do this, I'm a big fan of the site! Those tours went great for us! I learnt a ton from touring with all those bands. Most of guys have years of experience and have all their tone and gear really dialed in. Good Times!



UberProAudio: What's it like touring with so many other great bands? 

Elliott: It was awesome man, I was honestly just in high school a couple years ago listening to a lot of those bands. It's been pretty crazy being able to share the same stage with such great musicians and authentic people. It's also really helped a lot to learn about different aspects of being a touring musician. Whether it be theory, gear, techniques, or even tricks I've learnt a lot over the past year.  



UberProAudio: What are your favorite and least favorite aspects of touring?

Elliott: Well I've always enjoyed traveling and taking in new cities and cultures. Being able to travel around playing music is definitely a privilege, and we're very blessed by supportive fans that allow us to live that dream. It's a pretty crazy style of living life out of a van, It's not really what I think a lot of people make it out to be. It's like sharing the same bedroom with four other guys. Sometimes it's a little cramped, nobody knows where the other person's wallet is buried, or why somebody didn't throw that trash from last week out. But we have a good time hanging out and end up missing it when we get home. We definitely find ourselves being a little homesick and missing everyone back home.  



UberProAudio: Let's talk about your guitar rig. What gear are you currently using in your live rig? We want to know it all! Guitars, Amps, Pedals, etc… 

Elliott: I'm currently running:

Amps and Cabinets
- ENGL Powerball

- ENGL 4x12 Pro Cab




Within the past year I was running:

- Mesa Dual Rectifier






Guitars
- ESP LTD EC-1000 Satin Black  81-85 EMGs

- ESP LTD 400-FM Black Viper 81-85 EMGs
- Schecter Tempest Custom
- Boss NS-2
- Ibanez TS-9 Tube Screamer

- Boss DD-20 Giga Delay

------

Some other pedals I've ran in the past are: 

- Line 6 DL4
- Boss DD-7 (I recently sold to Landon our other guitarist)
- Boss PH-2
- Dunlop CryBaby Wah
- Furman Power Conditioner

- SKB 45 Pedal Board

- Sennheiser EW3 wireless 
 

Strings
- Elixir Strings either Nano/Polyweb Lights (Whenever I can afford to get some, it becomes pretty expensive frequently changing strings on tour, so usually once I'm to put a pair of these on I leave them on forever.)

- Ernie Ball Strings 




UberProAudio: When we last talked recently, you were working on some ideas to reconfigure your rig. Tell us what spurred the desire to change things up, and what gear might be on your wish list. 

Elliott: Well I've never been too happy with my tone live, I guess I'm like most musicians and find myself always wanting more out of my "tone". I ended up getting a hold of ENGL this summer and ended up switching out my Dual Rectifier for an ENGL Powerball. Looking back I wish I could have waited a bit longer and picked up the Powerball 2, but I needed something before Saosin. I was checking out videos from NAMM this year and that thing is a beast! There are a lot of little things I want to pick up and I'm always finding new things.
I have a lot of friends at home who have been gigging for years longer than I and they've been teaching me a lot about running gear and how to get the best tone out of everything. I never was a gear focused player before, and would spend more time figuring out a Paul Gilbert lick over which pedal should go where and why. I just never understood the importance and had no idea about anything.   



UberProAudio: So tell us about Untouchable. What can Before Their Eyes fans expect?

Elliott: "Untouchable" is a HUGE step for us as a band. Musically, I think we've all progressed since the last record, and for the first time as a band, I think we all sat down and created a record that we're incredibly proud of. "Untouchable" is full of energetic, and powerful songs. It's going to be our boldest release to date and we're incredibly excited for it! 



UberProAudio: On MySpace, a lot of your fans were wondering the background behind naming the new album Untouchable. Can you spill the beans on this yet? 

Elliott: Well that's sort of a funny story; we had been sitting in the studio brainstorming titles for a couple of days. We wanted to find a one word phrase that really captures the idea and direction of our music. So if anybody knows us they'd know we're huge fans of Taylor Swift and the title of our new album actually came from the re-release of Fearless. We all agree it matches the idea of our new record. A lot of the motivation behind this record was to write music that we love and would be proud of; we don't want to be just another band that writes the same song over and over for the rest our careers. We're always striving to progress as musicians so naturally evolves from record to record. Whether it be metal, rock, or pop we're always going to be the same band.  



UberProAudio: How do you and Landon, the other guitar player in Before Their Eyes, divvy up the guitar responsibilities? Do you play mainly lead?  

Elliott: We just divvy up the leads on different songs depending on who wants to do it. 



UberProAudio: What about sound-wise – do you guys have similar guitar sounds or do you try to sonically separate them a bit?

Elliott: Well during this past year we we're both using Mesa Rectifiers, so we were both running third channel high gain crunch. We're still experimenting with different tones and constantly learning new things.   



UberProAudio: So what does the future have in store for you and Before Their Eyes? 

Elliott: We just finished up a tour with Saosin, and Maylene & The Sons Of Disaster. We're heading home for the week of the release, and then we're back on the road in March. We're going out with Bless The Fall again to do a CAN/US tour. Just keep checking up, we'll have a lot of new things up soon! Can't wait for people to hear the new record!


Make sure to checkout the band at http://www.myspace.com/beforetheireyes