San Diego based rock band Dirty Sweet has built up an international following, played big festivals, sold out shows, produced music videos, and won awards. All without being on a major record label. Whenever we see this phenomenon take place, it usually means we are looking at a kick-ass band on the verge of something really big. After a brief investigation I figured out why Dirty Sweet is doing so well……they F-ing rock. These guys have the type of song writing that makes a record filled with tracks that are so good, you can't even pick a handful of singles. They are all that good. Seldom does this happen in my life, but when it does, the band instantly gets added to my "favorite bands" list. Thankfully I was able to talk with Nathan Beale, guitar player for Dirty Sweet, about his guitar rig, the bands upcoming release ("American Spiritual"), and much more.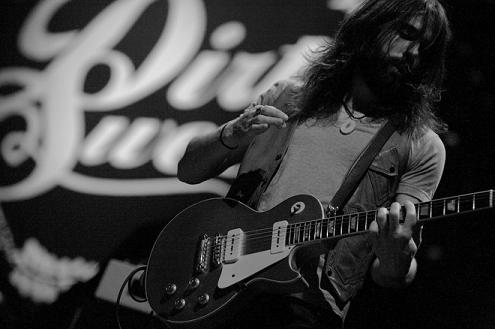 UberProAudio: Hi Nate. Thanks for taking the time to talk with us at UberProAudio. We are huge Dirty Sweet fans! So, tell us what the band has been working on lately.

Nathan Beale: We've just started writing songs for record # 3 (record #2, American Spiritual comes out in April). On top of that we are getting ready for the South by Southwest Music Festival in Austin, TX in March and a 6 week European tour to follow that.

 

UberProAudio: Based on the teaser tracks from the upcoming American Spiritual album you guys have on MySpace, I can tell it is going to be a killer album. What is the current plan for the album? When is it coming out?

Nathan: American Spiritual is going to be released on April 6th. We're going to start off the promotion with a European tour...then probably back to the States for lots of touring throughout the summer. Last year we were fortunate enough to play the Lollapalooza and Bonnaroo festivals, so more of that would be great!
 

 
UberProAudio: You worked with producer Doug Boehm on the American Spiritual album. What did Doug bring to the table for this new album?

Nathan: Doug was key in sifting through the various demos we had and helping us pick which songs to record. Plus, he's a great engineer and someone we could trust to bounce ideas off.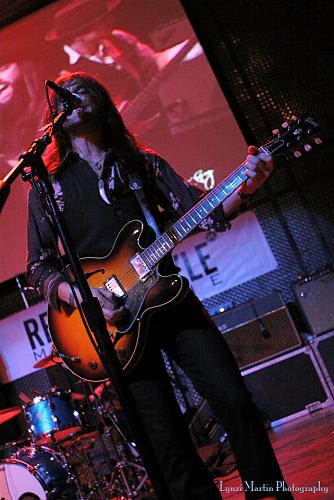 UberProAudio: Tell us about the recent Split 7" Dirty Sweet did with Night Horse. Why was a split with the band Night Horse the right fit for you guys?
 
Nathan: They are friends of ours from LA. They asked us if we'd like to do it and we said, of course!
 
 
 
UberProAudio: Your recordings have an incredibly authentic vintage sound to them. How did you guys record tracks such as Delilah? What recording gear and methods did you use to capture those sounds?

Nathan: It's been quite a while since we recorded the first album. I wouldn't be able to tell you exactly what we used. That album was recorded at a place in San Diego called Blue Roof. It belongs to our ex-bassist, Shaun. He has all the best old mics and pre's, plus a really great old Neve Broadcast console. I'm pretty sure we recorded at least the drums to tape first. My memory is a little fuzzy. We did something similar for American Spiritual except this time we recorded the drums first up in LA at Sound City, then did all the overdubs at Blue Roof.
 
 
 
UberProAudio: We know a Dirty Sweet video was featured on the Gibson website, so clearly you have some Gibsons. We've also seen you playing Fenders (the Killers show). So tell us - what axes do you have in your collection?

Nathan: My main guitar is a 2006 '59 Historic Custom Shop Gibson ES-335. It's my favorite guitar...really versatile and comfortable to play. I also own a '56 Custom Shop Goldtop (w/P90s)...this is a great guitar as well. The Gibson custom shop guitars are really, really nice! I also own a vintage 1965 SG Special that I rarely play except for slide. I have a pair of Teles as well...a 1978 that I bought for 25 cents when I was in high school...no joke! and a 2001 '51 Nocaster Custom Shop. My main acoustic is a Martin D-28 Marquis.

 
UberProAudio: What amps, effects and other gear do you have in your guitar rig?

Nathan: I always run two amps at the same time. A 1964 Vox AC-30 Top Boost and a 1964 Fender Vibroverb. The Fender is set pretty clean with lots of bass and treble. The Vox is really mid-rangy and crunchy. Together they compliment each other really well and give a very 3-D sound with lots of clarity. I split them with a Framtone A/B box. Also, on my board I have a late 70's MXR Phase 100 and the new Carbon Copy Analog Delay. I have quite a few effects made by Fulltone: OCD, Fatboost, Soul Bender, Octa-fuzz and Supa Trem...and an Electro-Harmonix POG. I have a bunch of other pedals and amps, but this is the stuff I use live.
[Click the pedals for more specs]


UberProAudio: You have really nailed the classic rock/hard rock guitar tone that many of us strive to get. What pieces of gear in your rig would you say are most responsible for achieving your sound?

Nathan: My fingers and my ears! ha...really, I don't know? I didn't try to 'nail' any particular tone...although I'm quite aware of it being 'classic rock' sounding. I like what I like and just go on instinct when I'm buying stuff. Using quality vintage tube amps helps...I usually don't prefer newer gear. And the stuff I do like tends to be the (unfortunately for me) really expensive stuff. But really, it's true what I said about the hands and ears - Jimi Hendrix, Brian May, Eddie Van Halen, Steve Cropper...even James Hetfield (or any guitarist considered to have a 'signature sound' ) could dial-in my rig to sound like them just as easily as I could dial-in just about any set-up to sound like me. It's not gonna be exact or optimum by any means, but it would be close enough to hear a noticeable difference.

Once we played a show with this terrible band and I let the guitar player use my rig. Somehow, with his guitar and the way he changed my amp settings, it sounded God awful. We (the band) were watching in disbelief at how bad he managed to make my extremely nice rig sound...his terrible playing didn't help much either. The whole rest of the night the joke was, "Nate, your amp sounds like shit man...you should throw that thing in the garbage"!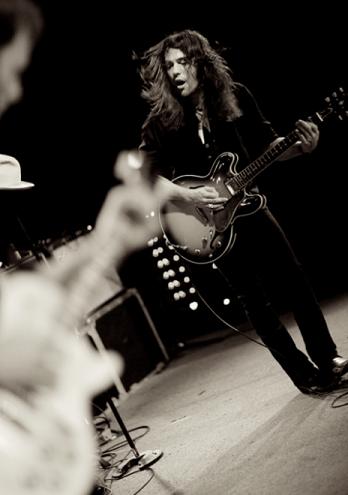 UberProAudio: You guys have a good following in Europe and are touring over there this Spring. How did you build the fan base over seas? Any upcoming European shows in particular you are looking forward to?

Nathan: I have no idea really how people in Europe heard about us. Maybe, the grass is always greener and to them American bands have an allure that is attractive. I know the opposite is surely true for British/European bands playing the states. Our first ever European show was in Amsterdam at The Paradiso. It is an amazing venue...one of my favorites...and our first show there was sold out. Just 20 minutes to stage time, we took a peak from backstage to see the audience. There were roughly 10 people...a sight you never want to see. By the time we took the stage the place was packed with probably 300-400 people! I still have no idea how that many people filed in there in that amount of time. It was a great night! I'm definitely looking forward to playing there again in April.
 
 

UberProAudio: It looks like you guys have a blast making Dirty Sweet music videos [which we recommend all of our readers checkout!]. Describe how you guys take a song, such as Marionette, and turn it into a video. Who comes up with the idea for the video? Does the band have someone else produce the videos or is it DIY?

Nathan: In the case of Marionette, I knew the minute we finished that song in the studio that it was gonna have a video with some sort of Western theme and I knew that my friend Iain Sclater was gonna direct it. So after the album was complete I gave Iain the entire album to listen to and said we want you to direct a video, but I want you to pick the song you want to do...already knowing which one he'd pick. Iain had already done some western style short movies and of course that song just has that spaghetti western vibe...it's very cinematic sounding. It was kind of a no-brainer actually. Once we found the location we headed to the desert and shot the thing in 2 days. It was so much fun to make. It was like being a little kid again. We had fight choreographers on set, real old revolvers with black powder blanks and period costumes for everyone. The thing cost virtually nothing to make...totally DIY. All the budget went to renting the ranch and everyone just donated their time and talent. We're all really happy with how it came out.
 


UberProAudio: Tell us about Dirty Sweet - Acoustic. Is that just a MySpace page to showcase your acoustic tunes, or is that a project in itself?

Nathan: It was something we used to do more of in the past. We would do entire acoustic sets that included songs that we couldn't play in our rock sets. We've sort of neglected that aspect of the band for sometime now. One day! ha.
 
 
 
UberProAudio: What does the future have in store for Dirty Sweet?

Nathan: I know Chris really wants machine guns mounted on a Ferrari...so we're probably gonna have to start selling a lot more records!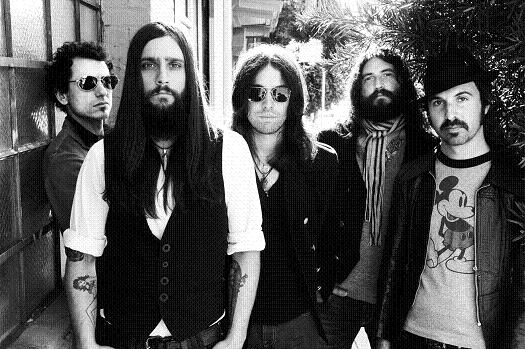 Checkout some great pictures of Nathan's guitar rig. Click any image to enlarge it fullsize.
For more info on Dirty Sweet, visit http://www.dirtysweetmusic.com/
Photo Credit: The image of the practice room is by Rich Cook.
Photos provided by and used with permission of Dirty Sweet.