Shawn Milke is a creative guy. He not only plays guitar, piano, and sings in the exciting band Alesana, he writes stories too. Alesana's brand new album The Emptiness showcases the bands songwriting - full of killer hooks, guitar riffs that will rock your socks off, and a new added depth thanks to live strings (quartet). It also casts a spotlight on a story that Shawn and Dennis created. The record is being released with this short story, adding to the awesomeness-factor. UberProAudio spoke with Shawn about the new album, and of course music gear!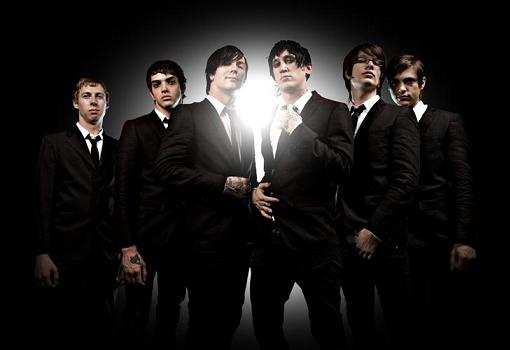 UberProAudio: Hi Shawn. Thanks for talking with us. So tell us about Alesana's new album, The Emptiness. What is the story of The Emptiness about?

Shawn Milke: The Emptiness is a short story of our own creation written by Dennis and myself.  It has always been a dream of ours to write our own story where each song is a new chapter.  The record release is accompanied not only by the lyrics but also the short story itself.  The story takes place in turn of the 20th century England and follows our characters The Artist, The Thespian, and Annabel.  It begins with The Artist waking one morning and finding his lover, Annabel, has been slaughtered in the bed next to him.  I don't want to give anymore away than that because part of the fun with this record is experiencing the story as it unfolds.



UberProAudio: How would you compare the tracks on this album to past Alesana records?

Shawn: The tracks on the new album are a perfect blend of our past records and our new maturity as song writers.  It combines the dynamics of our earlier work with the raw energy of our last record and adds to it a new ferocity and determination.  The record really just showcases everything we feel we do best.  We also added a live string quartet to really add depth to our sound and help create the feeling that not only are you listening to music, but you are experiencing a journey and a story as well.



UberProAudio: Watching your studio update videos, we can see that you guys put a ton of work into the writing/planning of the new album. Tell us about the process the band took to write and layout this new story.


Shawn: We honestly took the same approach we have always taken in the past, but this time around we upped the ante so to speak.  Patrick and I wrote around the clock for nearly six weeks straight just creating the skeletons for the songs.  Dennis and I spent the better part of half a year developing the concept, the plot, and the characters.  When all was said and done I had never worked harder on anything in my life but the payoff was worth every second.  The Emptiness, the vision I had for it, that we had for it, is perfect.  Our characters really came to life in the story and in the songs as well.  Every step of the process was treated with the same amount of care and preparation.  This time around I was able to compose and arrange strings for the first time in my life.  It was an absolute dream come true to see members of the Portland Muse Chamber Ensemble playing music that I had composed.  It was incredibly surreal.



UberProAudio: How was it working with producer Kris Crummett? Tell us about the part Kris played in the whole process.

Shawn: Kris is a producer that we have had our eye on since before we recorded our last record, "Where Myth Fades To Legend."  He has done some records in the past that we really loved, not only because they were great records, but because they really captured the band and the way their music sounds.  We really trusted that he would be able to do that for us as well, and sure enough he did.  He did a fantastic job on our record.



UberProAudio: Did you guys record the album at Kris' studio, Interlace Audio?

Shawn: Yes, we recorded The Emptiness at Interlace Audio in Portland, Oregon.  It was a great place to work, very relaxed atmosphere, great staff.



UberProAudio: What gear are you using in your rig for the upcoming The Emptiness tour (instruments/amp/cab/effects/accessories)?

Shawn: We are rolling with a PRS Starla Stoptail 22, a Gibson Les Paul Studio, a wide variety of Schecter Guitars, a Rivera Knucklehead II played through a Mesa Boogie cabinet accompanied by Boss Noise Suppression, an Ibanez Tube Screamer, and Boss Reverb, a Marshall JCM 800 played through a 1960's Marshall Slant cabinet accompanied by a Line 6 X3 Live, a Peavey 5150 played through a Mesa Boogie cabinet accompanied by Boss Reverb, Boss Noise Suppression, and a Boss Phaser, and an SVT Classic Bass Head played through an Ampeg 8x10 accompanied by a Sans Amp pedal.



UberProAudio: Did you use the same gear in the studio or did you use some different equipment for the album?

Shawn: We used a ton of different equipment in the studio.  I think when all was said and done we used over 16 guitars, 8 heads, 6 cabinets, and 3 drum kits.



UberProAudio: We talked to Pat [Alesana guitarists] a couple months ago and he had recently spent some time changing up the gear in his rig (amp, etc…).  Was he the only one that made some rig changes?

Shawn: We are always trying different combinations of gear.  We sometimes will get bored with how our stuff sounds and try something different.  On this tour, I am using the reverb pedal to add some spice to certain parts and Pat is tackling the all-in-one craziness of the X3.



UberProAudio: Do you have any gear on your wish list right now?

Shawn: I'm really interested in going with a custom company of some sort.  After five years of touring I feel like I have a specific sound and feel I would like to have and going custom seems like the best way to achieve that sound.  I always want more guitars, haha.  And I'm looking to finally get a decent piano.



UberProAudio: What does the future have in store for Alesana?

Shawn: More rocking, more writing, more doing what we love.  Thank you to all of our fans for making this all possible and thank you very much to Uber Pro Audio for arranging this opportunity to talk.  Take care.
To find out what Alesana is up to, make sure to visit them at http://www.myspace.com/alesana