WE BUTTER THE BREAD WITH BUTTER is the musical duo from Lübben in the East of Germany, which has focused on the highly idiosyncratic dubbing and covering of children's well-known songs. Blast-Beat attacks from the drums scrap the lovely melody of "Backe backe Kuchen", buried under tons of sludge-heavy riffs and driving the song with full force and dark growls against the wall. At the end, the audience is stunned before the ruins, alienated and wondering what evil the two gentlemen of WE BUTTER THE BREAD WITH BUTTER must have encountered in their childhood. Luckily, with the recent release of Das Monster aus dem Schrank in the US (available at Hot Topic stores across the nation), UberProAudio had a chance to sit down and talk with Tobias Schultka, vocalist and half the brains of WBTBWB about the latest album, gear, and more.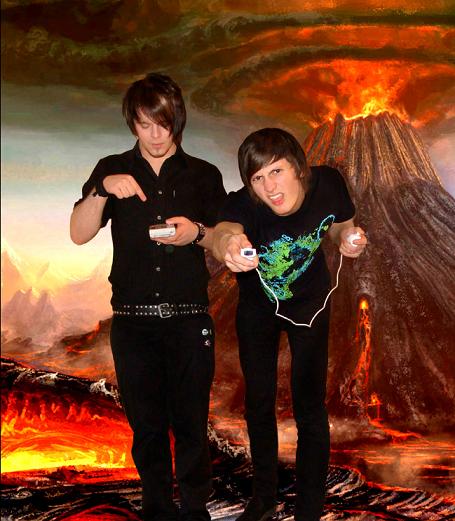 UberProAudio: Hi Tobi. Thanks for talking with UberProAudio. Let's start off with some gear questions. What equipment do you use in your live guitar rig (guitar, pedals, amp/cab)?
 
Tobi: We used to have an old ENGL amp, but now we are going to be using a Triple Rectifier by Mesa Boogie in order to make the audiences balls shake.





UberProAudio: What other gear does it take to put on a WBTBWB show?

Tobi: Hot girls, guys in good moods and a crate of.......bananas.



UberProAudio: What gear does the band use in the studio for recording? Do you work with a lot of samples, or are you playing many of the instruments live when recording?

Tobi: An Ibanez guitar and a Boss GT8 and Microsoft Paint.



UberProAudio: What made you guys decide to stay a two man band rather than bringing in other musicians to the group? Do you think you will add more members to the band in the future?

Tobi: We had never planned to actually play live shows.
Do you think we would have gotten attention in the USA as a five-piece band?



UberProAudio: What is the East Germany music scene like? How does your music fit into the scene there?

Tobi: The wall has fallen dudes! The German metal scene is great and is real fun! There are far too many bands in Germany that are really great and gain far too little attention!



UberProAudio: Your album recently released in the USA. What are your thoughts about this great accomplishment?

Tobi: We had never thought that we would be successful in America and we are really thankful for the support. We hope that we will be able to do a tour of America next summer.



UberProAudio: The Das Monster aus dem Schrank album is your band's versions of classic children songs. Where did you guys get the idea to cover these songs?

Tobi: The syllables of the German children's songs were handy at the time and just rocked! It doesn't really have a deeper sense but it was just cool.



UberProAudio: How would you describe the sound of Das Monster aus dem Schrank to someone who hasn't heard your band yet?

Tobi: Rancid but modern, not quite as mainstream. We really like the electro sounds in the stark contrast to the heavy guitars.



UberProAudio: We know you have a new album in the works. How will this album compare to Das Monster aus dem Schrank?

Tobi: Surely musically better, more dance, a good bit heavier. It will certainly be better than the last one, because we are simply putting more effort into it. We hope that we will be able to sell enough copies of "Das Monster aus dem Schrank" to be able to release the new album on the same date in the US, as in Europe



UberProAudio: What does the future hold for We Butter the Bread with Butter?

Tobi: Many surprises, cool shows, cool parties and hopefully an awesome tour of the USA!!!!!!!!!
To Listen to WBTBWB and find out what the band is up to vist http://www.myspace.com/wbtbwb