In 2009, TJ played in a band with some guys who may be young in age but they are definitely not young in musical experience. In just a few short years the Atlanta based band has played at the 2007 Vans Warped Tour, The 2008 Rockstar Taste of Chaos Tour, The 2009 Vans Warped Tour, and The 2009 Journeys Backyard BBQ! The band also recently recorded an EP with with famed gold record producers Zack Odom & Kenneth Mount. Lucky for us, Tj Routon, one of the two guitar players in the band had some time to sit down with UberProAudio and answer some questions about his gear, the band, and more.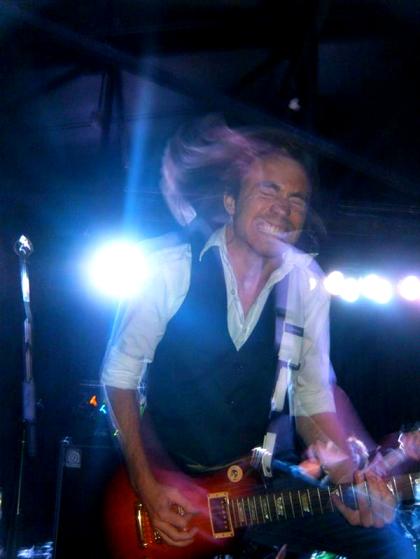 UberProAudio: Thanks for the interview TJ. Tell us all about what gear you are using in your guitar rig – guitars, pedals, amps…. All the juicy details.


TJ: I'm currently using a Mesa Boogie Roadster, and a Boogie 4x12 cab. I recently acquired a Bogner endorsement, so I will be playing a Bogner Uberschall and a Bogner 4x12 in the near future. The Boogie head and cabinet are both in Maxline custom cases, another company I endorse. I have four spaces in my rack, but only 3 are occupied at the moment. I have a Furman power conditioner, Korg tuner, and an Audio-Technica wireless. I leave all the effects for my pedal board. On the board I have a Line 6 DL4, which all of my delay and some of the "effected" delay comes from. Also on my board are a Boss CE-5 chorus, a Boss NS-2 noise suppressor, and an Ibanez TS9, which is my favorite pedal of all time. It just turns that dry tone into a "wet mooshy heavenly goodness" haha. As long as you don't run the gain really high, it still stays tight and focused. I have my Mesa channel switch mounted on my pedal board too, which is a Boss BCB-60. For a guitar I play a Gibson Les Paul Studio fire burst.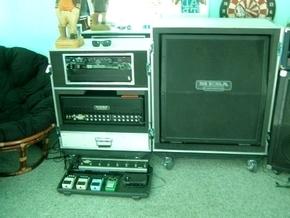 UberProAudio: We saw that you were recently looking to sell your Mesa Dual Rectifier head and cabinet. What made you decide to switch to the new amp and get rid of the rectifier?


TJ: I landed a Bogner endorsement, so I'm pretty stoked about that! Also, if anyone reading this is interested in buying my head or cab let me know!



UberProAudio: What pieces of gear would you say are a requirement to get the TJ sound? Which are your favorite?


TJ: All you need is ruffles chips, A LOT of ketchup, and some lemonade. Haha. But on the real, I have always used channel 3 instead of channel 4 on my Roadster for my main sound. Or if you have a regular dual recto it would be channel 2. I started using channel 4 a while back but it just didn't have the bite or good feeling the 3rd channel has. It's just "HUGE". Also, I wouldn't be able to get my sound without the tube screamer. It's essential.



UberProAudio: You are the newest member in the band. How did you get hooked up with the band?


TJ: Long story short, I was in California at the time, living in Hollywood going to the L.A. recording school, and I had already known about the band a couple years before moving to Los Angeles. I ended up talking with them on Myspace of all things, and everything just went from there. They were having problems with their old guitarist, and I needed to be playing music. Playing in bands was always my thing in high school, and it's always what I wanted to do, and I decided it's what I needed to do to be happy. So I left school in L.A. and moved to Georgia. I wouldn't have been able to do any of this if it weren't for my parents support, I owe them everything.



UberProAudio: How do you and Justin Calalay [other guitarist in band] share the guitar duties? Does one person play lead and the other rhythm or do you split it up?


TJ: It usually depends, but we like to split things up. It stays a lot more entertaining that way, to us and the fans.



UberProAudio: Tell us a little about Hello Stranger, your acoustic side project with fellow bandmate Ryan. How did the project form? What are the plans for Hello Stranger?


TJ: Hello Stranger was originally Mike Hart (Vocals for 7SF) and Ryan. Then when I came into the band, and showed Ryan some of the stuff I do in my spare time, he was really impressed and wanted to do some stuff together. So Mike kept his side project (Mike Hart tell your friends), and me and Ryan Kept on with Hello Stranger. There really aren't any plans, we are just going to put an E.P. on itunes and hope it sells. We don't have any intention on playing shows or touring, just making music. So our stuff will be up on itunes soon!



UberProAudio: The band is planning on doing an acoustic EP this fall. Do you think any Hello Stranger material will make its way onto this?


TJ: There has been talk about making "Let Go" a band song, but who knows. It would be cool, but it's not really that band sound, it's more of a party acoustic song. As of right now the acoustic E.P. will have The Getaway songs on it, and 1 new song, which is kick ass by the way.



UberProAudio: How did the Warped Tour go? What was it like playing a show that size?


TJ: It was my first time attending a Warped Tour, and I got to play it. It was amazing, soooo many people. Although we played at the same time The Maine and 3OH3 played, but we still had a REALLY good crowd which made me feel like a rock star. We are shooting to be on a lot more dates next year, so I can't wait for that!




UberProAudio: The members of the band have an average age of 19. What is it like having musical success at such a young age?


TJ: It feels awesome. We have so much more to learn and so much information to acquire. Everything has been DIY up to this point, so we all feel really accomplished. Wesley, (Drummer) is the business man. Without him, I feel we would be nowhere near where we are right now. We recently started working with manager Jason Miller (The Higher, There For tomorrow), so we are really stoked on that.



UberProAudio: What does the future have in store for TJ Routon and the band?


TJ: Just touring as much as we can from here on out, gaining more and more fans, we wouldn't be here without them. Check our dates on our myspace page, come out watch us play and hang out with us! We love meeting new people and talking with our fans. We are going to be on Comcast soon, and plan on recording a new E.P. in the new year, so we plan on having a bright future! Stay tuned! Thanks man!
Checkout our Who Plays What rig page for TJ to see his gear in a list.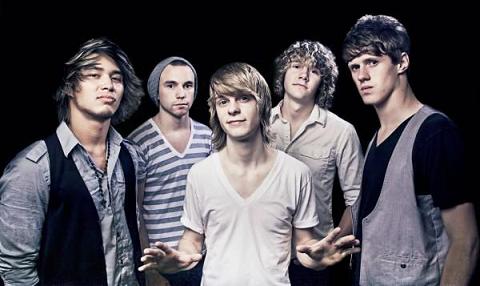 Images provided courtesy of TJ and band.