Jason Moore is a F-ing rockstar. He is busy doing the shows we all wish we were playing like the Warped Tour. If you haven't heard of Jason yet, he is a guitar player in the Cincinatti based rock band Black Saints Cartel. Whether he is tearing up the stage with his Gibson SG or taking the time to talk to fans, Jason is a reminder to all of us musicians that hard work, practice, professionalism, and a can-do attitude goes a long way. Jason, a fellow guitar gear lover, sat down with UberProAudio for an insightful interview about his rig, influences, and the Black Saints Cartel.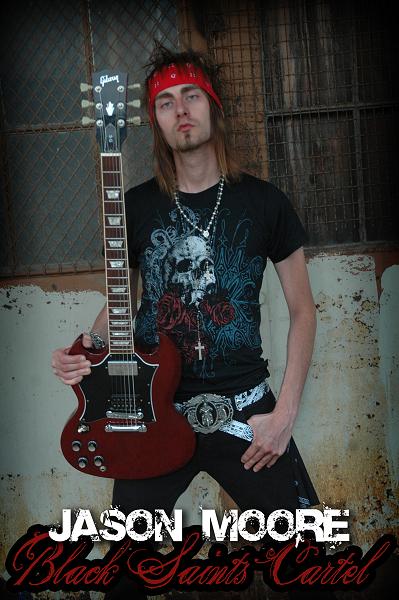 UberProAudio: Thanks for talking with us, Jason! Let's start off by talking gear. What's your current rig look like?

Jason Moore: Alex, it's great to be a part of UberProAudio… I greatly appreciate the opportunity to be a part of this, so lets get down to it!

As for my guitar rig, I am currently using a 50-watt Marshall JCM 800 4104 2x12 combo [Figure A]. I only use the combo by itself for rehearsals and for backup if my 4x12 fails. This amp is just one channel; however, I keep in mind that less is more. Typically in Marshall's, a lot of them are stocked with EL34 power tubes but I'm currently using the big fat KT66 power tubes. I'm getting less gain/distortion, yet I'm getting bigger, punchier, low midrange that cleans up warm and full. I run the 800 combo into my Marshall 4x12 Marshall JCM 800 Lead Cabinet loaded with 8ohm Celestion Heritage Speakers [Figure B]. These speakers can cover pretty much all spectrums of rock n roll, I wouldn't recommend them for scooped out metal, but for the classic rock to heavy rock tones this is it!!!!

Onto my pedal board… I love my Line 6 MM4 modulation and DL4 Delay pedals! [Figure C & D]. For modulation it's simple. I have the classic vintage 4-stage Phaser tones. I have 2 presets set from slow thick phase, to fast & 2 settings for Tremolos which I hardly use, haha. I use my DL4 delay mainly to thicken up my leads; however, I have a setting for tape delay for my psychedelic tripped out lead for "Slow Blow."

My last setting is pretty much open for experimenting. I use the Digitech Whammy [Figure E] for my leads on "Avenue Park" and "You." It's my texturing tool to harshen up the signal. I'm definitely no Tom Morello on that thing ha. My most important tool in my rig is my Morley Pro-Series Volume Pedal [Figure F]. It has a volume pot on it and I keep it set to 1-2:00.  I kick it into heel position for clean/with a hair of breakup, and toe down for full out overdrive/distortion. Keep in mind since I am using a one-channel amp, I crank the preamp volume and bounce between clean and dirty using the volume pedal. No pops or clicks from channel switching; it just glides right into where you want it and stays consistent every time. For my lead tones I use a boutique overdrive pedal called the "Eternity Overdrive" made by Lovepedal [Figure G]. It's basically like an Ibanez Tube Screamer but with more gain and it's built with quality components. I can keep "my tone" yet throw the extra gain and a touch of volume. It cleans up extremely well when rolling off the volume and most importantly, its quiet! I'm a Wah Wah fanatic! I think I've gone through 3 or 4 Wah's in the past 2 years? As for now I'm using a modified CryBaby 95 Q [Figure H]. The mod is basically a deep switch to add more low-end vowel tone. This Wah is built like a Morley without the pots to step down on, I love the Morley's, but they don't have the sweep that the CryBabies have and I always end up not clicking down hard enough to turn the damn thing off and everyone is like "what's that terrible shrieking noise?!" No pots, classic sweep, Perfect. Well…until something else comes out that blows my mind, haha. I use a Boss Tu-2 Chromatic Tuner [Figure I] and a Samson airline wireless [Figure J] so I'm not restricted to a cable. My amp & pedal board rig are coupled with Snapjack Guitar Cables! [Cables not pictured]. The pedals are powered by a Visual Sound 1 SPOT adapter and the Line 6 pedals are powered by their own individual power supplies.


I have attached photos below of my actual 2009 Guitar Rig.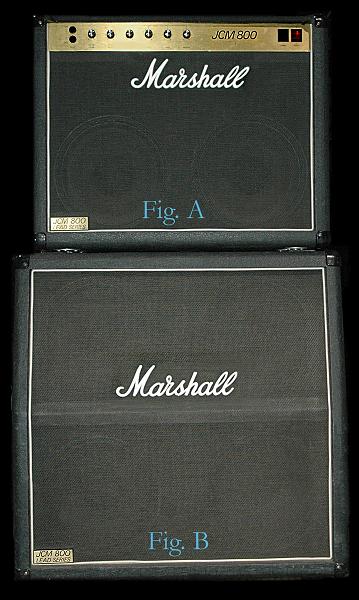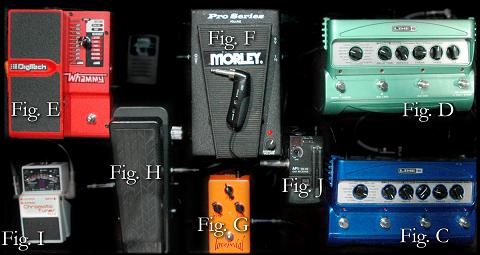 Also see Jason's Rig in a list in the Who Plays What section of UberProAudio

UberProAudio: How's your live rig shaping up for Warped Tour? Plan on giving any pieces of gear a try?

Jason Moore: Well as for Warped Tour and for the tours to come, I'm going do my best to keep my rig the same as described as above. What I use in the studio and on the album is what I want to take out onto the road. I know sometimes that's not possible, but I want to do my all to recreate the tones on the recording in a live setting. I've got my eye on a Splawn amp right now. I can't remember what model it is, but while I was out on the Dope/Soil tour I met an awesome dude named Todd who co-built an amp for George Lynch! He brought it out to test drive on the tour and he let me fire it up one night. I was blown away! It's like my JCM800 on steroids!!! I was thinking about using an A/B between my Marshall and the Splawn but as of now I will be keeping my rig as is.  


UberProAudio: Staying on the subject of Warped Tour – tell us about playing a show of that size. How do you prepare yourself, and what do you like the most about it?

Jason Moore: I was born for this!!! Honestly, I do worse playing in front of 3 people instead of 100 or a 1000. I don't get it? I tense up and turn retarded. Maybe I think too much… I don't know? I'm a pretty level headed & laid back guy but when it comes to prepping for a show of that size or any size, I like to have a bit of quiet time away from the chaos but sometimes you don't get that. That's where alcohol comes in! Sometimes I'll have a beer or shot just to ease the nerves and to keep my mind focused on a smooth set. Everyone is mainly just anxious to just get out there to give the fans a great show.  If the gear is working right and the soundman has us crank'd, the worries ease and its smooth sailing from there! There is no better feeling than people throwing up their devil horns and rock'n to your songs. It's a connection thing, and once you have reached a common ground with people and they can relate, they are your friends and fans for life. There are really no words I could say to express how amazing it is to sign an autograph for a fan. I've always been a giver, and a people person so no matter if we sell 5 albums or a million I'll always be reaching out to my fans and giving everyone the invitation to hang with me. At the end of the day I want our fans to feel like they are apart of a family and apart of something special. I feel like I'm the luckiest guy in the world to be doing what I'm doing. Money or no money, the outreach is what means everything to me.   


UberProAudio: What's the band's set list for Warped Tour looking like? Give our readers a sneak peek of what to expect!

Jason Moore: Well as far as I know, we are playing the "Kevin Says Stage" & to my knowledge it's a 25 min set. With that in mind, we're all just focused on high-energy back-to-back songs. Since we have a limited set time, we wanna keep a continuum of music going and exit the stage with the fans wanting more. We just recorded last week a new song entitled "Get In The Cage." The song was mainly written for ICF heavyweight champ, Ron Mitchell, but since it's an all out high energy, balls-to-the-wall rocker we had to add it to our set list!     


UberProAudio: Where else can fans catch you this summer? Got any additional shows planned?

Jason Moore: Well as of now its Warped Tour. There are more shows in the planning, but not set in stone yet. However, I just launched my new MySpace! I keep it updated so you can find all the shows posted on my site and I'm in the works of posting a detailed video of my guitar rig and some behind the scenes stuff for everyone to see. Again, I'm doing everything I can to make my fans apart of the band and I. The band has also launched its brand new website! So go check it out!
www.myspace.com/guitaristjasonmoore
www.myspace.com/blacksaintscartel
 


UberProAudio: Tell us how your band brings back that "rugged, bold sound of true rock and roll." What are you doing do keep that sound alive and well?

Jason Moore: Well listen to the bands like Black Sabbath, Led Zeppelin, Rolling Stones, The Who, The Kinks, AC/DC, The Ramones… They may be all different genres of rock, but they all share that in your face raw tone. When you hear AC/DC you know it's AC/DC!  They all walked their own walk and talked their own talk & did their own thing and didn't let the industry change them or conform them to what "they" wanted. Those bands created timeless music. For my generation, I've only really seen a few bands like Stone Temple Pilots, AC/DC, Alice In Chains, & Foo Fighters really preserve their sound.  For today, there are very few bands that have their own unique thing going; and those bands haven't been really hitting high on the charts unfortunately. Don't get me wrong, I'm not against change, but I'm against going with what everyone else is doing. A lot of rock bands you're hearing on the radio are sounding alike and its like the "edge" is gone. As for Black Saints Cartel, we've gone back to go forward sorta speak. I love new age rock, but I've got a tremendous appreciation for the old school arena rock and I feel that's where the key lies. Go back, to go forward! In my eyes I feel that this band has the full package. We've taken what we love from yesteryear and from today's sound to make it our own so from here it's only to the top. We've gotten such a huge response from people being out on the road and when we hit the stage, we just go for it and do not hold anything back. We're out doing our own thing, walk'n our own walk and talk'n our talk, trying to keep that timeless rock n roll-tude alive n' kick'n.     


UberProAudio: What does your band and your guitar playing add to that rugged sound to keep it relevant in today's modern rock world?

Jason Moore: Again referring back to the old school arena rock bands of yesteryear; my drummer Shaun Foist is a huge Rush & Breaking Benjamin fan; our other guitarist Scott Henthorn loves the 80's hair metal & Punk stuff. Siggy Skeens, our vocalist, is into the outlaw Waylon Jennings and Axel Rose shit, so throwing us into a room to create music is like a fuck'n circus freakshow! Haha. I play Marshall's to get the tone, a Gibson SG guitar with an overdrive pedal for leads. That's my core tone. Scott my other guitarist uses Marshall amps also. That's what the pioneers of rock n roll used to get that huge arena rock tone so why change it?  I've picked up licks from various guitarists such as Tommi Iommi, Slash, Jimmy Page, Warren Hynes, Dean DeLeo and Mark Tremonti. I try not to over think when playing, so I just tend to play until something clicks and keep it structured accordingly to the song. It's easy to overplay, so I try to keep it simple and musical. My overall goal is to grasp the audience at the first note and keep groove catchy.


UberProAudio: The band's MySpace page lists Led Zeppelin and The Kinks among its influences. Tell us how the guitarists of such bands have inspired you're playing. What have you taken from them?

Jason Moore: Well Jimmy Page is one of those players who just went for it. I love his approach to guitar. He just played his ass off and it didn't matter if the notes came out perfectly clean or not. He had that raw in your face tone and when you hear how Zeppelin composed their songs its really mind blowing on how ahead of their time they were as a band. Again going back to yesteryear bands like The Kinks, they captured the raw distorted guitars, and trashy lashed out vocals. When listening to "All day and all of the night" it's catchy, simple and form the second you hear it your tuned in. That's our reminder to keep it raw, catchy and in your face.   


UberProAudio: Staying on that same note of inspiration – walk us through creating a song. How do you balance the instrumental and lyrical of a tune?

Jason Moore: Sometimes the song evolves from a jam session. Shaun could be beating on the drums; Scott will join in banging out a guitar riff; I'll come in elaborating on what they're playing, Siggy will jump in with adlibbed lyrics and Tony will finish it off with bass. At the end of the jam we'll discuss some ideas on where we think the song should go and whether or not we keep it, or we trash it. It's a trial and error kind of thing. Our vocalist, Siggy, also plays guitar, writes his own music and brings ideas to the table. Scott, Shaun, Tony & I will pick up what Siggy throws our way and we structure and build the song together. Sometimes it works, sometimes it doesn't. But the majority of the time we come back to the drawing board and work out the kinks to make the songs as strong as possible. We mainly emphasize our songs around the vocal melody. We want to write material that will get stuck in your head and drives you crazy!


UberProAudio: Taking a trip down memory lane – think back to your first show with the band. What were you playing, and how have you tweaked your rig since then?

Jason Moore: I'll never forget this one! It was fall of 2007; we were opening for Adema in Madison Wisconsin. I was playing Schecter guitars at the time. My pedal rig was for the most part the same however; I had bought a Mesa Boogie Roadking series 2 amp. I was running that into my Marshall JCM800 Lead cabinet that I still use today.  For those who know the Roadking amp, Its 4 channels, with gobs of switches in the back to tweak the tubes, wattage, etc, and it comes with a 2ft. foot controller. I had to build my pedalboard rig around the Mesa foot controller. It was long and narrow with two tiers for my pedals. I built it out of plywood and had it wrapped in fabric. The damn thing weighed around 40 pounds and was a pain in the ass to move around, but it had housed everything nicely. I was a diehard Mesa fan at the time, but after getting amp 101 with my producer Dave Cobb he really turned me on to the old Marshall's. After returning home from our recording in L.A., I sold the Mesa Roadking on eBay and that's when I grabbed my Marshall JCM 800. It was also nice to stick $2,000 bucks back in my pocket!!! Since then, I've never looked back; Though, I have to say the Splawn amp would be a killer addition to A/B between:) I'll keep you all posted when my setup changes!


UberProAudio: Fast-forward to the future. You have access to any guitar and gear you want. What's your dream rig looking like?

Jason Moore: Hmmm. I'd have about six Gibson SGs with some custom wound pickups! I also love big fat jazz guitars; I'd love to have a Gibson L4 Hollow Body, just to rub in my brothers' face. For amps, I'd keep my JCM800; add the Splawn amp and perhaps an Orange Rockerverb? It'd be nice to have a wall of Marshall Cabinets behind me and I would consider using a nice Bradshaw foot-switching unit so I can link my amps & effects together. I'd love to have a custom boutique Wah made to my specs. Other than that, I just wanna keep it simple and have lots of volume!


UberProAudio: Any plans to put out an independent album any time soon?

Jason Moore: Well I love writing my own stuff but it's mainly just to keep the ideas flowing for the band and occasionally I'll serenade the ladies (hah!). Even though it won't be happening anytime soon, but who knows what the future holds down the road? I have been thinking of writing an instrumental to post on my new MySpace, yet acting on it is another thing. As of now, I'm focused on this band and its direction. If I get an open time slot to get into the studio an instrumental would be sweet! Again, only time will tell.


UberProAudio: Are there any plans to upload any more music to the band's MySpace page any time soon? There's a decent selection of songs up there now.

Jason Moore: I'm glad you asked that because we just released "GET IN THE CAGE" It's written for our good friend & ICF Heavyweight Champion, Ron Mitchell. Go to BSC's MySpace to hear it. This song pretty much makes you wanna rip someone's face off so go listen to it! www.myspace.com/blacksaintscartel

Our album will be released soon. We're making final touch ups on it! It's been a lot of hard work but it's all paid off & we're so excited to get it into the hands of our fans! They've been patient and the wait is soon over!  In addition we just released our brand new official Black Saints Cartel Website! www.blacksaintscartel.com As of now it's still in the works but it's coming along great and we're very happy overall with the progress on it.


UberProAudio: If you could play along side one legendary guitarist, whom would you choose? And why?

Jason Moore: This may be the most difficult question of all!!! Though I'd have to say Jason Becker. He's my ultimate hero when it comes to guitar. Though I wouldn't say, "play along side" mainly because I'd be frozen with my jaw dropped to the ground. Jason is completely utterly phenomenal. He's a true virtuoso of then and now. Though his life has been altered, he still writes, composes and creates incredible music that touches people's lives. It's shown me to never give up, and to never stop doing what I love no matter what comes my way. Honestly, the Jason Becker story changed my whole persona for music and life it's so inspiring!!! I couldn't recommend anything better than that for artist of any kind! It'll open your eyes and touch your heart.


UberProAudio: After Warped Tour, what's next for Jason Moore and Black Saints Cartel?

Jason Moore: After Warped Tour the band and I are gonna continue to play shows and expand out. I don't see things really slowing down anytime soon.  There is a couple of big tours in the mix that I can't really elaborate on at this time but things are being worked out and we're all really excited to let our fans in on it :) Its crazy, some days it feels like things are hardly moving along then comes the days where you're hustling and busting ass. It can all go from 0 to 100 in an hour's time. Nonetheless, it keeps things exciting for us and we're ready to bury the needle and take our music into full gear! I'll continue to stay in touch with UberProAudio and I'm so glad I got to sit down and be apart of this interview! Thank you for this amazing opportunity and I hope to hear from you all soon! Keep Rock'n Ya'll
Interview conducted by Alex M. Cole. Alex is an award-winning journalist and music fan.