Waves of rockers have entered the hardcore scene in the last few years. But few have been as successful as the band Gallows.

Guitarist Steph Carter helped Gallows rise to the top with his driving chords and passionate on-stage presence. UberProAudio chatted with Steph this week about his gear, ink, new album, and being a guitar hero.
---
UberProAudio: Thanks for agreeing to answer our questions, Steph. Tell us about some of the gear you're using on Gallows' upcoming tour.

Steph Carter: I'm using 4 Marshall 1960 4x12 cabs, an original JMP MKII from 1976, and a JCM 800 (2210) from 1985.

As for guitars, I'm taking two Les Paul Customs. One is a 1974 Black Beauty and one is a 1978 Tobacco Burst. Both my Les Pauls have been fitted with Gibson 490 and 498 pickups. I also take a Fender American Deluxe Telecaster with me as well.

Pedals: Boss TU 2, Decimator, Foppstar custom tube screamer. That's it. And I have the decimator and tube screamer always on – I don't ever change the sound!
[Checkout our Rig Page for Steph!]
UberProAudio: You're selling tons of guitar equipment on Myspace. Making room for any new gear?

SC: I'm always looking for new gear! I collect guitars and amps and end up having a bunch of gear sitting in my room just doing nothing. So I've decided to get rid of a bunch of gear to hopefully buy myself another Les Paul Artisan.

If you know anyone wanting to get rid of a white Les Paul Artisan, tell them I'm very interested! Ha!
UberProAudio: Give us the scoop on your new album – Grey Britain – coming out in May. How's it differ from Gallows' first album? What kind of sound can fans look forward to?

SC: Grey Britain is a lot different from [Orchestra of] Wolves. The main difference was the fact that we had time on our side to create this album.

Wolves was done very fast with a lot of the writing happening in the studio, whereas GB was fully written well before we hit the studio. We tried to capture the energy and the performance of the band live, so we recorded a lot of it together without click tracks.

And the whole thing was analogue – everything went to tape to get that warm, raw sound.
UberProAudio: The new album makes a political statement. Tell some of our American readers just exactly what that statement is.

SC: The world is fucked. And people need to realize before it gets any worse.
UberProAudio: What new gear and equipment did you use on the second album? How did they add to each song?

SC: Our producer flew over a lot of his amplifiers. I brought every amplifier and guitar I owned, and we borrowed a bunch of amps and guitars off friends of ours who weren't touring at the time.

We don't really tend to use a lot of pedals, so there were no "new toys" to experiment with! If we wanted to have a heavy, muddy sound, we'd layer some guitars and try lots of different amps out. Both Laurent and I used five or six different amps at the same to get our own desired sounds.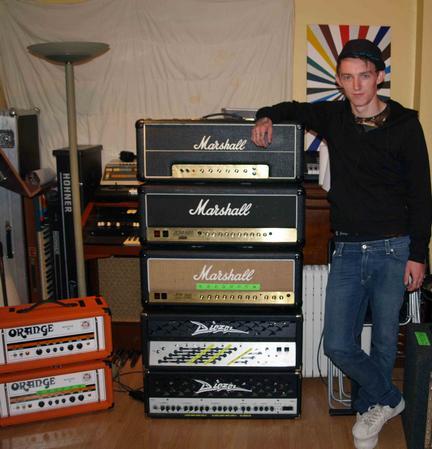 UberProAudio: How's your rig in the studio differ from your one on the road?

SC: The difference between my studio rig and my road is just the size of it. On the road, I'm held down to what I can fit in the trailer – and I have to bear in mind there are four other musicians in the band! Whereas my studio rig can be as big and as extravagant as I want it to be. 

UberProAudio: What's it like to be picked up by a major recording label, as opposed to signing with an independent one?

SC: It's amazing. People have a serious distaste for major record labels. And, if you ask me, those people are fucking narrow-minded.

Signing to a major record label was one of the best things I've ever done! It meant I can carry on doing what I do every day, what I love doing every day. And I can earn a wage at the same time! Plus it's given us the opportunity to take Orchestra of Wolves all around the world twice.

UberProAudio: How's Gallows' set list shaping up for Warped Tour 2009? And tell us what it's like to play on a tour of that size.

SC: We're still trying to work out the set list for our UK headline tour in May right now, so I haven't even begun to think about the Warped Tour set list!

I can tell you that it will be a decent mix of both Wolves and GB. We've toured Wolves
for the past three or four years now, and it's hard to go out every night with the same passion and drive for songs that were written a long time ago!

We pride ourselves on our live show and the passion and energy we give when we perform.  Playing a tour like Warped is hugely important to us, as it give us an opportunity to take our music to a crowd of potential Gallows fans. 

UberProAudio: Frank Carter says there are no rules at a Gallows show. Explain to us how you break barriers and interact with an audience.

SC: We still have rules at the shows. I guess not rules – just the same principles every show has.
Don't be a dick and just have fun. We try our hardest to break the "band/crowd" divide by playing a lot of the show in the pit between the crowd and the stage, or even completely in the crowd. We just want everyone to have a good time. The more fun the crowd has, the better show we play! 

UberProAudio: That's a sweet tattoo you have featured on your Myspace page! What's the story behind it?

SC: I guess you're talking about the "mum" tattoo? We were on Warped Tour in '07, and it was longest time I'd spent away from home. And by the end of it I was really starting to miss my home comforts, and especially my mum.

My brothers and I are very, very close to our mum – she's amazing! She has always been there for me, and she's helped me out when ever I've needed her.

I got the "mum" tattoo on the last week of Warped Tour. And I got it in a cake, as she's an incredible cook and she cooks the best cakes I've ever tasted. Her specialty is butterfly cakes, so I figured the best "mum" tattoo I could get was a butterfly cake with mum in it!

Last night, however, I topped that one and I actually had my mum tattoo the word "mummy" on my arm. Can't get much better than that!

UberProAudio: Last summer Gallows released a new, Internet-exclusive song on Myspace. Any plans to release additional tracks like that in the near future?

SC: You never know what the future might hold! We were in the middle of writing GB and this track came out. We really liked it, but knew that it wouldn't work on the new album. But definitely thought it was a track that Gallows fans would love.

We knocked this track up in like two days or something, recorded it quick, and just put it out to remind kids that we were still around and new, better material was soon going to come their way!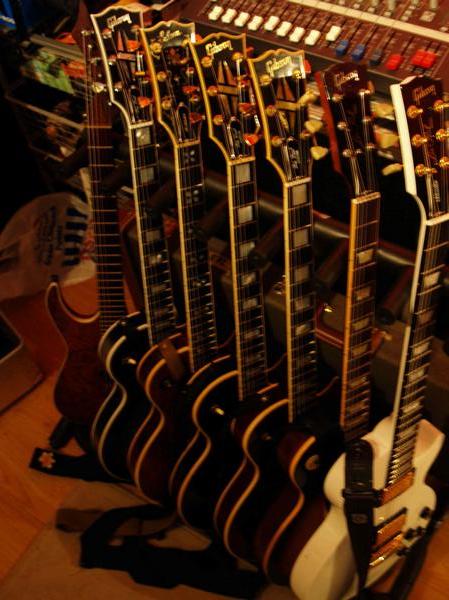 UberProAudio: Gallows' hit song "In the Belly of the Shark" made an appearance in a recent "Guitar Hero" game. Have you tried playing it with a plastic guitar? How'd it go?

SC: Ha! I'm actually pretty good at hard mode on Guitar Hero – me and my little brother play all the time.

Playing your own song on Guitar Hero is kind of weird, simply because you end up hitting notes that are not actually there when you play it live. Plus you're trying to play two different guitar parts at the same time, and it's weird.

UberProAudio: In an interview, your brother said Gallows drew its influence from the legendary hardcore band Glassjaw. How did their guitarists inspire you? Have you ever had the opportunity to play with them?

SC: I saw Glassjaw play along time ago in London. They were supporting The Deftones. It was my first time seeing a hardcore band, and it totally changed my view on music and made me appreciate a live show. I just watched what these two guys were doing – diving around the stage with so much passion and energy, yet still hitting all the notes!

I had a lot of admiration for Todd and Beck, and I still do today. "Everything You Ever Wanted to Know About Silence" is still one of my top five albums ever.

UberProAudio: A new album in May. A fresh tour this summer. What else does the future hold in store for Gallows?

SC: I have no idea what the future will hold for us – hopefully a long and fruitful career. This is our second full length studio album, and fuck man, this is just the beginning!
Check out the band at: http://www.myspace.com/gallows and http://www.gallows.co.uk/

Photos courtesy of Steph Carter.
Interview by Alex M. Cole. Alex is an award-winning journalist and music fan.