Most things in the recording studio are not cheap - microphone pop filters are no exception. There are many pieces of studio gear that you have to buy because you can't easily build them yourself - like mixers and microphones. Pop filters are one item that you can build yourself for dirt cheap and end up with a very usable finished product.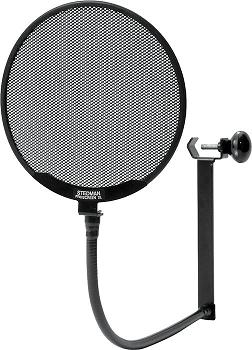 A Pop Filter is used in front of a studio microphone to remove or reduce plosives. Basically the point is to try to reduce the popping sound that comes along with speaking/singing words with a "P" or a sound that is similar in power to that. When a singer hits one of those "P"'s, there is a lot of air being pushed out of their mouth (we all knew singers are full of hot air :) and if that hits a microphone dead on it will cause the unpleasant pop sound. The Pop Filter restricts the air flow to the mic thereby eliminating the "P" annoyance.
I'm going to let you in on a little secret of mine. When I was a young lad I started out recording but was low on dough. I wanted a pop filter, so I decided to construct one of my own. I had heard the legend of the self constructed pop filter and decided to go to the store to get materials to build it.
I went to Walmart (you can go to any craft store) and bought a plastic (you can buy plastic or wooden - I got plastic because it came in black) Embroidery Hoop - under $2. Here's what that type of device looks like: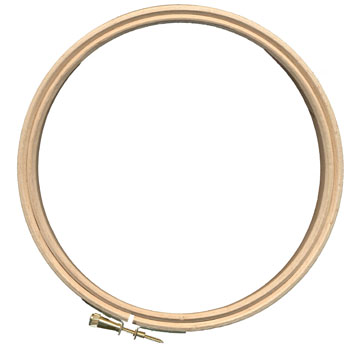 I then went over to the women's pantyhouse aisle and found the cheapest pair in black - it was like $1 or $2.  They came in one of those little plastic containers like you get from the kid 25 cent candy machines.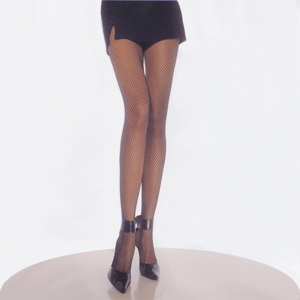 I then went to the hardware section and bought a gooseneck looking device that was for plumbing or something like that. You can buy actual goosenecks at a place like Radioshack, but they aren't that cheap. You don't really need a goosneck device. You can always hook your custom made pop filter to a stick or something and then tape that to another mic stand - that way you can position the pop filter wherever you want in front of your vocal microphone.
The assembly should be self explanatory. You take the pantyhouse and stretch it over the embroidery hoop. Are you done? Yeah! It's that easy - you made your own pop filter. So here's the real secret - I never got rid of that pop filter I made when I was a kid. I actually have used it on many projects. It works about as good as a professionally made one so I figured why not use my money on cool things like mic preamps and microphones instead of a pop filter.
If you just want to buy a pop filter and are not into DIY check out this: